Abstract: What's neat about the Sandisk Extreme 64GB USB 3.0 flash drive is that it's built with the kind of flash memory found in Solid State Drives.


88% Rating:

Home > Reviews > Memory > SanDisk SDCZ80-064G
SanDisk SecureAccess and USB 3.0 Primer
SanDisk SecureAccess Software
SanDisk SecureAccess (Yuuwaa Ver 1.1.19755) is a basic data encryption package which can secure files stored on the SanDisk flash drive with 128-bit encryption. The program basically acts as a secure folder into which files can be dragged and dropped for encryption and thus secured, the remaining flash partition is available for sharing.
Access is maintained by running the SecureAccess management software from the USB 3.0 flash drive and entering a password. Crucially though, everything stored in the encrypted "My Vault" folder that SecureAccess creates is read only.... to edit a document the file needs to be moved outside the vault, worked on, then stored back in the vault at the end of the day. It's somewhat cumbersome.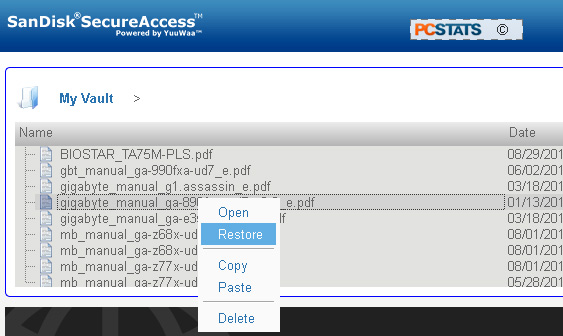 Examining files stored in the 'My Vault' encrypted folder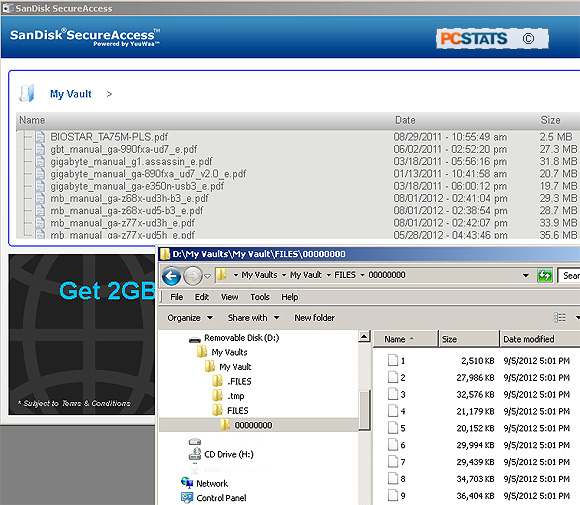 Comparing encrypted files to the raw data in 'My Vault'
The files are stored in encrypted format under a folder labelled "My Vault", which can be accessed by Windows Explorer, but all file names and extensions are removed. On the whole, PCSTATS did not find the SecureAccess program all that streamline to use.

Brief Primer on SuperSpeed USB 3.0
USB 3.0 is the third major revision of the Universal Serial Bus standard that runs everything from your mouse and keyboard to flash drives and external hard drive docking stations. It brings with it a couple benefits in addition to a speed boost, such as Sync-n-go (USB devices are instantly available), backwards compatibility, bidirectional dual simplex data transfer protocol and better power efficiency so there's less power usage when it is active or in an idle power state (no device polling). USB 3.0 ports are identifiable by their blue colour and nine electrical connector pins.
As you would expect, USB 3.0 ports and devices are backwards compatible with USB 2.0 and USB 1.1 standards. However, USB 3.0 devices will operate at 480Mbit/s when connected to USB 2.0 ports. Conversely, USB 2.0 devices are limited to USB 2.0 speeds when inserted in a USB 3.0 port. Because of the back-end technology differences you need both a USB 3.0 port and USB 3.0 device to get the full 4800Mbit/s speed.

USB 2.0 and USB 3.0 ports photographed upside down to illustrate the extra electrical connections on the latter.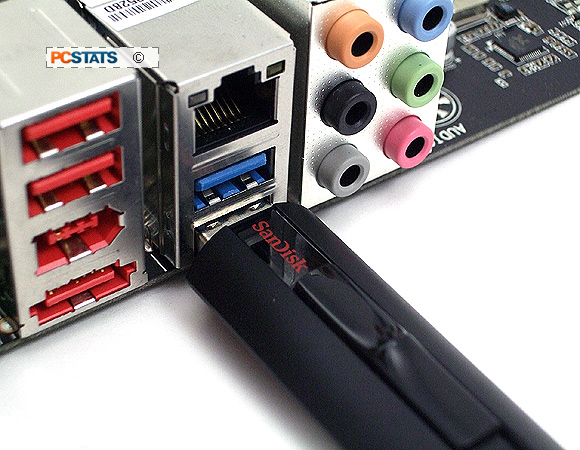 The Sandisk Extreme 64GB USB 3.0 memory stick is slim enough to use with horizontally and vertically stacked USB ports; this is something you'll want to be mindful of with bulky USB thumb drives, sometimes they block adjacent USB ports.
Next up, PCSTATS benchmarks the Sandisk Extreme 64GB USB 3.0 thumb drive.