What's neat about the Sandisk Extreme 64GB USB 3.0 flash drive is that it's built with the kind of flash memory found in Solid State Drives . Sandisk won't reveal the exact type of NAND flash memory mind you, but rate the drive at speeds of 190MB/s read and 170MB/s write. That's quick. For a clearer picture on the capabilities of the SanDisk Extreme flash drive, PCSTATS benchmarked it against the Patriot Supersonic. Both flash drives are native USB 3.0 devices and 64GB in capacity, but the type of flash memory differs between them. Where the SanDisk Extreme posted results of 196MB/s read and 173MB/s write in CrystalDiskMark (100MB, Sequential), the Patriot Supersonic flash drive managed just 114.2MB/s read and 59.33MB/s write - a virtual snails pace by comparison!
In short, SanDisk's Extreme 64GB flash drive is not another ubiquitous 'USB drive'; it's fast, it's a native USB 3.0 and it's competitively priced at around $1.33 per GB of storage. Backed by a lifetime limited warranty, the SanDisk Extreme SDCZ80-064G-A75 will run you about $85USD at shops like Newegg.com. Bundled along with the drive is SanDisk SecureAccess software; a basic tool to encrypt your data with 128-bit encryption, protecting files on the portable device in the event of loss or theft.
WorkingAt the Speed of USB 3.0
As the SanDisk Extreme is a native USB 3.0 flash drive, its full performance is only available when it's plugged into your computers' USB 3.0 port. USB 3.0 ports operate at 4800Mbit/s and are found on most every Intel X79 /Z77 / Z68 /P67 /H67 and AMD 990FX /A75 motherboard these days. By comparison, the older USB 2.0 port runs at 480Mbit/s, about 10X slower. To put these numbers in perspective, with the SanDisk Extreme 64GB flash drive connected to a USB 3.0 port it can transfer a single 8.5GB movie file to the PC in two and half minutes. Connected to a USB 2.0 port, the same task takes more than 5 minutes.

SanDisk Extreme 64GB USB 3.0 Drive
Model: SDCZ80-064G-A75

Data Port: USB 3.0 (backwards compatible with USB 2.0)
Size: 70 x 21 x 10mm

Price: $85 USD/C DN
Examining the Flash Drive
Inside the memory stick is a single 64GB module of SanDisk 07097-064G NAND flash memory. Interestingly, SiSoft Sandra identifies this device as "Sandisk SSD CZ80 64GB / USB3/SATA600, 1.8" SSD ". The memory is FAT32 formatted from the factory, but in order to work with +4GB file sizes PCSTATS reformatted the flash drive to NTFS.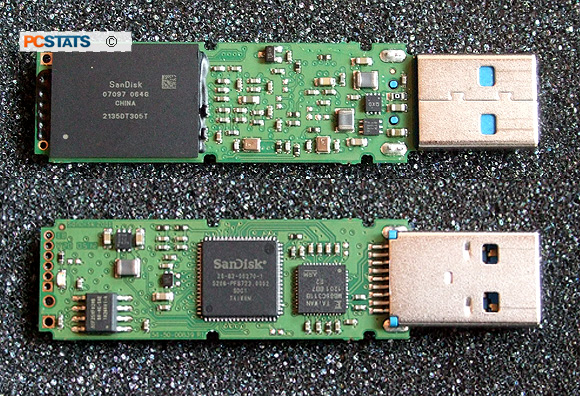 Inside look at the SanDisk 64GB Extreme USB 3.0 flash drive
PCSTATS was unable to locate any data sheets for either integrated circuit. The NAND flash memory chip is marked: "SanDisk 0797-064G, China, 2135DT305T". The controller is labelled: "SanDisk 20-82-00270-1, S208-FS723.0002, SDC1, TAIWAN".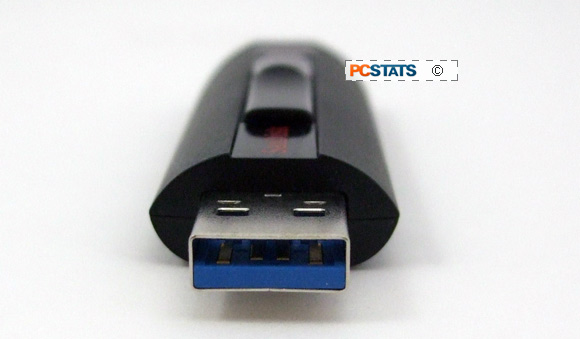 Business end of the flash drive, the case is 10mm thick, 21mm wide.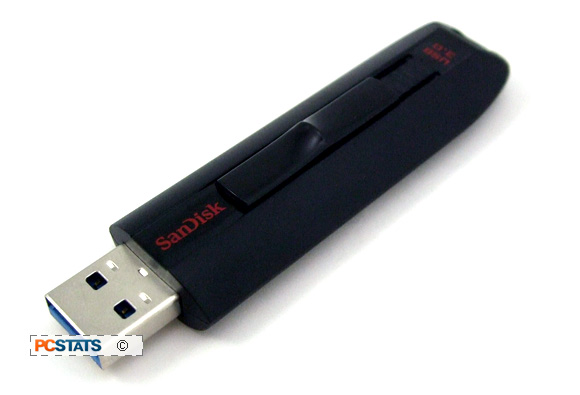 A blue status LED is hidden just behind the sliding lock
Flash drives should be robust enough to take a bit of abuse but slim enough to fit into USB ports that may be crammed quite close together. SanDisk's Extreme 64GB flash drive measures 70x21x10mm in size and is housed in a simple plastic housing. A small catch on the top of the flash drive slides back and forth to retract the USB 3.0 jack for storage. The drive itself feels pretty lightweight and the USB 3.0 jack does wiggle a bit in the plastic shell, but overall it doesn't feel cheap. The retractable action snaps back with a satisfying click and best of all there's no cap to misplace.
During PCSTATS tests we did find the retracting data connector was inadvertently released a couple times as we inserted the drive, so the USB jack slide back into the flash drive case rather than going into the USB slot. While this is easily solved by holding the drive correctly, with at least one 3.5" USB 2.0 front bay the SanDisk Extreme had a hard time getting recognized by the host computer. The same ports worked fine with Patriot's Supersonic USB 3.0 flash drive, with the SD Extreme we had to nudge the drive to one side before it would pop up in Windows Explorer.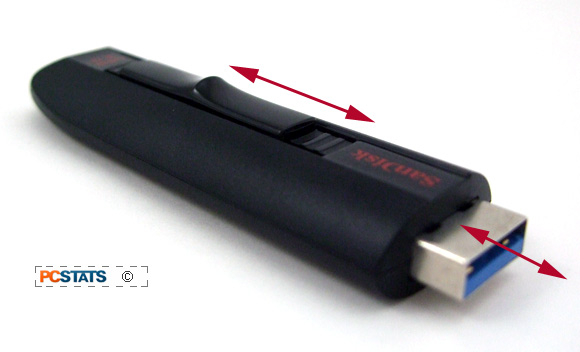 Retractable USB 3.0 port, saves loosing the cap