Video Transcoding

In this test a 450MB 1080i high definition MPEG2 video is transcoded via Cyberlink MediaShow Espresso 6 to a 640x360 MP4 video format suitable for the Apple iPhone 4.
Video Transcoding Test
Without Intel QuickSync

With Intel QuickSync

Intel Core i5 2500K /
Gigabyte GA-Z77X-UD4H

56 sec
14 sec
The Intel Core i5 2500K / Gigabyte GA-Z77X-UD4H duo handle the MP4 video transcoding in 56 seconds without the aide of Intel QuickSync. Enable the tool and the same platform plows through the transcoding in a mere 14 seconds. Power Draw figures for the Gigabyte GA-Z77X-UD4H motherboard are next.
System Power Draw
PCSTATS measures total system power draw (watts) with the aid of an Extech 380803 AC Power Analyzer and A-PFC compliant Seasonic SS-760KM power supply. The meter is placed between the 120V AC outlet and the PC power supply and the computer stressed. Total system power draw is recorded and compared to the PC's idle state.
Total System Power Draw - GA-Z77X-UD4H
Idle

CPU Loaded

GFX Loaded

Intel Core i5 2500K
nVidia Geforce GTX470


86W
161W
225W

Intel Core i5 2500K
Intel HD 3000 IGP

38W
109W
85W

(Idel @ desktop)

(via Prime95)

(via 3DM06)
Given that that power efficiency is one of the few remaining ways to differentiate a board, it's not surprising Gigabyte has put a lot of effort into improving circuit board level build quality and electrical efficiency. The GA-Z77X-UD4H motherboard adopts Ultra Durable 4 which makes use of 'Driver MOSFETs' which combine the functions of a driver, high MOSFET and low MOSFET into one board mounted component.
Judging by the total system power draw measurements (above), using CPU-IGP graphics is a good way to save power! At idle the system draws 86W with videocard, 38W on IGP. Likewise, CPU loaded power draw figures are 161W with VGA and just 109W with IGP! The big difference in power draw is evident with a run of 3DMark...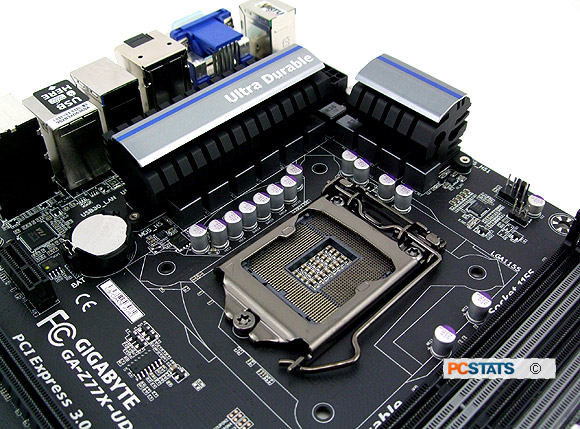 Gigabyte VRM circuitry includes driver MOSFETS under the silver heatsink and LOW RDS Ferrite Chokes around the LGA1155 CPU socket.
This mobo uses a 4-layer PCB with 2oz. copper substrate that pulls double-duty as a board level heatsink for surface mount devices.
Now it's time to wrap this PCSTATS motherboard review up.
A Change to PCSTATS Motherboard Review Format
Where-o-where are the benchmarks?
Where is the benchmark system test specs?
Rest assured that PCSTATS wouldn't post a hardware review without benchmarks for you to look over, however in this review we're testing a different layout; the test system specs and full benchmark report will follow the conclusions. The full set of benchmarks are still included, but we're not commenting on each chart since the majority of readers tell us they prefer to interpret the data in the charts themselves. Please drop us a line and let us know if you like, or hate, this change to our review format?
Conclusion: A Great Everyday Workstation Motherboard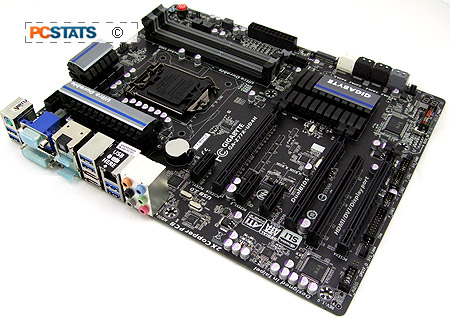 As we mentioned in the first paragraph of this motherboard review, we really liked what the Gigabyte GA-Z77X-UD4H board brought to the table - feature wise, build wise, layout wise - you name it, there was little we weren't satisfied with. A bad button placement here and there and lack of bundled in USB 3.0 brackets isn't a deal breaker. As you'll see in the full set of benchmark charts which follow this conclusion on the next page, the Gigabyte GA-Z77X-UD4H performed well and was easily able to keep up with competing Intel Z77 platforms.
For example, in BAPCO Sysmark 2012 the GA-Z77X-UD4H achieved an overall score of 185; the highest of any SNB test platform and just 12points behind the GA-Z77X-UD5H-WB test platform. In PCMark Vantage the GA-Z77X-UD4H scored 18635.
On the integrated graphics front the Intel LGA1155 platform offers luke warm 3D gaming capabilities. For example, when running on the Intel integrated HD3000 graphics the platform scores just 1896 in 3DMark Vantage, a good result for Intel graphics, but paltry next to AMDs APUs which repeatedly scored in the low 5000's.
Overclocking results were acceptable, but not out of this world. This is mainly due to the rather limited CPU used in PCSTATS' Intel LGA1155 test platform - you may see better results, it all comes down to the CPU. Gigabyte certainly outfit the BIOS and board with plenty of overclocking features for those who want to push their hardware faster and faster... there are hundreds of voltage settings to be tweaked, voltage read points and more frequency controls than you can shake a stick at.
To sum up, the LGA1155 Gigabyte GA-Z77X-UD4H motherboard is built around the Intel Z77 chipset and compatible with 22nm/32nm Intel 3rd/2nd Generation Core i7/i5/i3 processors, it offers up a great set of features that'll run the mainstream focused user about $160 USD/CDN. If you're frustrated by the slow PC you currently have and don't want to wait for Intel's next CPU, 'Haswell', to drop, the Gigabyte GA-Z77X-UD4H is a wonderful board to consider. Recommended.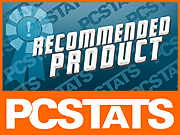 Don't forget, the full set of Benchmarks and Test System Specs are presented over the NEXT 10 pages of this review. Click next page to view them.