Everglide Large Attack Mouse Pad Review
---
As you all may already know, I am quite the avid part time Quake III player. Well actually I like to play Quake III, but really suck bad at it. While my good friend HKA>Playboy, tells me time and again that your computer's performance and gimmicks are not of paramount importance in fragging, we still agree that it doesn't hurt to have the BEST possible equipment to play with.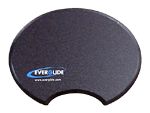 $22.50 CDN / $14.95 USD
So you're wondering what I might be missing with my famous "Box O' Pain" which is currently like this:
Intel PIII-700E FC-PGA @ 966Mhz
Soyo 6VCA motherboard
128MB Micron -75C RAM
Creative Annihilator 2
Microsoft Intellimouse Optical
There are other details, but those five are the most important. Obviously my Quake III frame rates will be quite high, so what else might be missing? A good mousepad, that's what! I've had to suffer with poor felt based mousepads, and have used the 3M Precision mouse pads too. Felt mouse pads, get dirty, and generally messed up quite quickly, and DO NOT enhance my Quaking experience. The 3M Precision Mouse Surface are a step up from the standard felt pads. However I find that it slows my mouse tracking (kinda sticky, slow.) And over time the PMS starts to slide all over my table.
Fortunately, Everglide have come to the rescue with a 'revolutionary' design, that can hopefully enhance my Quake game, and make Windows mouse navigation a bit easier on the wrists. And if it doesn't, at least it looks kinda cool sitting on my desk :) .
Tale of the tape:
The Everglide Large Attack Pad measures in at 10 - 1/2" Wide, and 1/4"Deep. It's made out of a cutting board like material (high density plastic.) To counter my dislike for slipping mousepads, the Everglide LAP comes with 6 rubber feet on the bottom side of the mouespad for stability. The LAP is a very solid (hard) mouse surface, that will not break on you, unless you do something crazy like putting it into a vice and hitting it with a sledgehammer. Some people may find that the surface area to be kind of lacking, I am not having any problems with the surface area though. I guess it depends on how wild your playing style is :-) .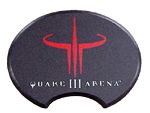 $22.50 CDN / $14.95 USD