Fluorescent Multi-Layer Memory
---
Bigger, Better Memory with Constellation 3Ds. Fluorescent Multilayer Disks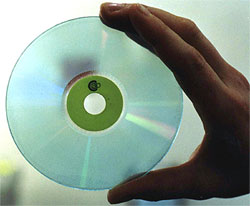 How do you boost a computer's memory, both in capacity and in speed? The usual model for memory storage features a recording/reading device (a "read-write head," a "probe tip," a "stylus,") and a surface on which that device can make its impression. So it's not surprising that some of the most promising research in the memory industry features a simple modification of that paradigm. Instead of just one recording surface, researchers are now thinking of using up to 100 layers, and a corresponding number of recording/reading devices, to store ever-greater quantities of data.
This technology is already being used in DVD players, which use two simultaneous layers for memory storage. When researchers at IBM tried increasing the number of layers, however, their multiple laser beams encountered so much interference that the company decided to forego further explorations in this field. The laser beams required to read each layer were corrupted upon passing through other layers. It might have been a dead end for multilayer systems, had fluorescent coatings not stepped in to save the day.
When multiple layers of storage material are coated with fluorescent material, they turn intervening laser beams into fluorescent light. This fluorescent light is immune to corruption from intervening layers and other lasers. More specifically, each base layer is marked with a pattern of "pits." When this layer is coated with fluorescent material, the pits gather a greater thickness of fluorescent stuff. The contrast between pit-thickness and layer-thickness of fluorescent material results in a unique reading of stored data.
This fluorescent material is currently made of polymers that are owned by Constellation 3D. The company intends to market these polymers to other firms, as well as produce the 3D data-storage systems themselves. It looks to be a huge score for the firm. In a field where increasing storage capacities mean greater danger of data corruption, Constellation 3D has found a back door to long-term, high-capacity memory. Research has shown that systems using fluorescent material resist corruption much longer than naked systems. And researchers have recently posited devices containing as many as 100 layers separated by fluorescent coatings -- shattering earlier forecasts of feasible storage capacities.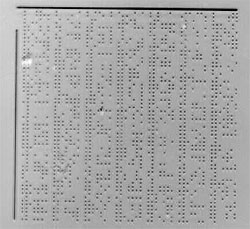 Not only will storage capacities be exponentially increased; the technology is also potentially much faster at accessing information than are single-layer devices. Multiple layers can be read simultaneously, as can different patches of the same layer. This is an important step towards commercializing the product because, up to this point, technologies have tended to focus on either capacity or speed, failing to incorporate both.
Ease of upgrading is another strategic advantage to multilayer fluorescent technology. Existing CD and DVD manufacturing lines can be modified to FMD standards without altering their essential structure. Most systems would only require a few extra steps to deposit coatings with fluorescent materials.
As to the fluorescent material itself, there are a few criteria that need to be met. Most generally, the fluorescent material must be compatible with the layer it's coating, and the wavelength it absorbs must be identical to that used in the drive. It must be a reasonably stable material, although its response time should not be greater than 1 nanosecond. With its refraction index similar to that of its polycarbonate sublayer, the fluorescent material must have a high conversion efficiency. Finally, the beam that gets reflected through the fluorescent material should be wavelength-shifted by at least 50nm so that the two beams do not get confused within the system.