Abstract: The Intel 815E chipset was such a highly anticipated component, and when it arrived, many pro-Intel types breathed a sigh of relief....
77% Rating:
Home > Reviews > Motherboards > Gigabyte 6OMM7
Gigabyte-6OMM7 Motherboard Review
---
The Intel 815E chipset was such a highly anticipated component, and when it arrived, many pro-Intel types breathed a sigh of relief. Intel had finally released a chipset supporting many important features such as, 133MHZ fsb, AGP 4X compliance, as well as the much needed TRUE PC-133 SDRAM support. Gigabyte has quickly jumped on the i815 bandwagon, by releasing a couple of new motherboards. The one under scrutiny today is none other than the Gigabyte-60MM7.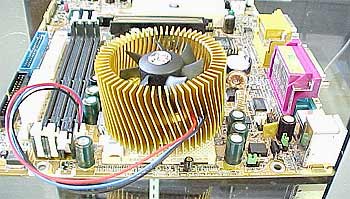 What's in the Box:

1 x Gigabyte-60MM7 Micro-Atx motherboard, 1 x ATA66 cable, 1 x floppy cable, 1 x manual, 1 x CD: Drivers, DirectX 7, Suspend to Disk Utility, and Norton 2000 SE.
SEARCH PCSTATS

---

Use the power of Google to search all of PCSTATS and the PCSTATS Forums. Tell us what you think of this new feature - FEEDBACK?