SiSoft Sandra CPU Memory Benchmark 100Mhz CAS-2: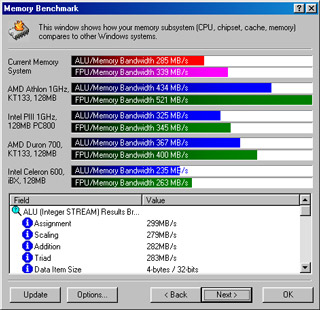 A small increase vs the CAS-3 scores.
SiSoft Sandra CPU Memory Benchmark 133Mhz CAS-2: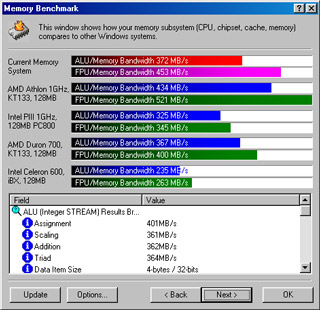 At 133Mhz CAS-2, it manages to spank the PC-800, and beats out the 200Mhz FSB Duron Reference systems (100Mhz RAM).
SiSoft Sandra CPU Memory Benchmark 143Mhz CAS-2: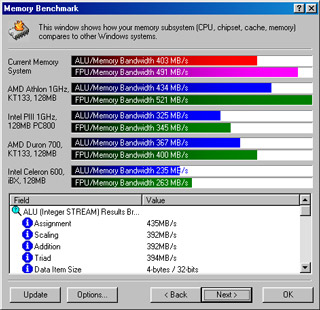 At 143Mhz CAS-2, it nearly eclipses the performance of the Athlon T-Bird Reference, whilst maintaining a healthy lead over the rest of the field.
While SiSoft memory scores can help you visualize the differences in speed, it always helps to use a real-world benchmark that people might be interested in. That's where Quake III comes in...
Once again I am using a Geforce2 GTS video card with the leaked Detonator 6.16 Drivers. I did not use the official Detonator 3's, because they are simply, too buggy for me. Causing many problems with restarting, and shutting down, as well as display properties crashing on me. I overclocked the video card to 230Mhz Core, as well as 375Mhz for the memory.
I used my custom config file which you can download here , and set my desktop colour depth to 32 Bit colour mode, and set the in game mode to the default High Quality mode (800*600).
First Off, the CAS-3 Scores:
| | |
| --- | --- |
| CPU/Memory | Quake III 800x600 [HQ Mode] Demo 1 |
| PIII-700 (100Mhz CAS-3) | 121.8 FPS |
| PIII-933 (133Mhz CAS-3) | 157.3 FPS |
| PIII-1001 (143Mhz CAS-3) | 169.9 FPS |
Finally, the CAS-2 Scores:
The CAS-2 scores were definitely faster (better) than the CAS-3 scores. But they did not prove to be significantly better.