Abstract: Working in a computer store has some benefits, such as playing around with OEM products! I've been itching to purchase some true CAS-2 PC-133 RAM for quite sometime now...

Home > Reviews > Memory > Infineon PC-133
Infineon 128MB PC-133 RAM Review
---

 
Infineon PC133 128MB Ram. $216 CDN / $146 USD
A popular upgrade for many computer users out there, happens to be the ever so popular RAM upgrade.  It's debatable whether or not you need 256MB or more, but you'll definitely want at least 128MB.  Since I work for a computer store in Toronto, I do get to play around with a lot of the OEM products that come to our store.  I've been itching to purchase some true CAS-2 PC-133 RAM for quite sometime now, and it just SEEMS impossible to purchase these modules in Toronto (ie using Micron -7E, or Mosel Vitalic chips.)  Anyway, I received a stick of RAM using Infineon modules as a birthday present, the code on the chips is: HYB39S64800BT-7.5 [0024].  These are CAS-3 rated modules, but I thought ah what the heck?  I might as well try setting it to CAS-2, I've got nothing to lose...
First things first, I had to test stability at CAS-3 first, after all if the module can't do what I want it to do at CAS-3, then CAS-2 would definitely NOT work at all. 
Testing Rig, AKA: Bao's Box O' Pain:
PIII-700E @ 100Mhz/133Mhz/143Mhz FSB
128MB Infineon PC-133 CAS-3
Soyo 6VCA VIA133A w/ AA4 Bios
Asus V7700 Geforce2 @ 230Mhz/375Mhz
Windows Millenium
Let's see how this 128MB CAS-3 module faired in SiSoft Sandra Benchmarks:
SiSoft Sandra CPU Memory Benchmark 100Mhz CAS-3: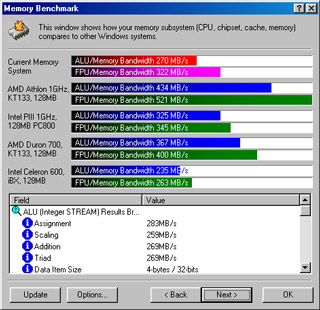 It pulls slightly ahead of the reference Celeron 66Mhz FSB system.
SiSoft Sandra CPU Memory Benchmark 133Mhz CAS-3: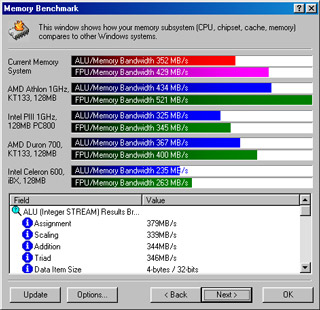 133Mhz FSB @ CAS-3 beats out PC-800 Rambus: haha!
SiSoft Sandra CPU Memory Benchmark 143Mhz CAS-3: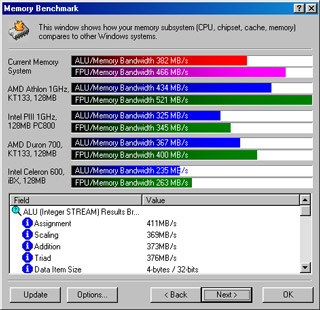 I'm impressed with the scores here, even at CAS-3.
Those CAS-3 scores were quite impressive, but my true goal here was to reach CAS-2 speeds...  I was pleasantly surprised, as the memory module managed to do CAS-2 at 133Mhz FSB... but I REALLY wanted it to do CAS-2 @ 143Mhz (because my CPU is a PIII-700 overclockable up to 1001Mhz, 143Mhz FSB).  Let's take a look at the speeds and scores now shall we?