Handspring Visor Deluxe PDA Review
---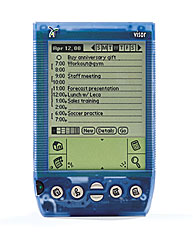 Aside from the cell phone, one device that has become very popular among the business professional is the personal digital assistant, or PDA. While these devices tend to have a variety of shapes and forms, they all serve the same primary goal: to allow us to have much needed information easily accessible wherever we go.

While the PDA has been with us for quite a while now, early designs didn't appeal to the mass market. Devices such as the Apple Newton were generally considered too big for a PDA, and the relatively poor handwriting recognition made it rather difficult to enter data reliably and quickly. As such, these early attempts at creating the ideal digital assistant were used only by a small minority of users.

This all changed with the introduction of the PalmPilot 1000 Connected Organizer. Here was a device that was pocketable, extremely easy to use, and most of all, utilized a relatively simple handwriting recognition engine called Graffiti. Although limited in terms of memory (a measly 256KB), many consumers snapped up the device. Eventually, the PalmPilot 5000, PalmPilot Personal, and PalmPilot Professional PDA's were introduced, with each device adding various features such as more memory and backlit displays.
Despite these additional enhancements, one thing remained the same: ease of use. By keeping with this principle, Palm Computing (like 3Com and US Robotics before them) has been able to attain a substantial lead in the PDA market. Not even the Microsoft juggernaut, with the Pocket PC, has been able to put a large dent in Palm's market share.

Today we'll be taking a look at a particular PDA that at first glance may appear to be a Palm clone, but upon closer inspection, turns out to be far more. This device is called the Visor Deluxe, and it is manufactured by Handspring; a company founded by the same people who developed the original PalmPilot. So what makes the Visor different from your average Palm? As it turns out, quite a bit. The following is a list of specifications of the different Visors available at the current time.
Handspring Visor Series

Visor Solo

Visor (standard)

Visor Deluxe

Operating System

Palm OS 3.1

Palm OS 3.1

Palm OS 3.1

RAM

2MB

2MB

8MB

Sync. Cradle

No

Yes (USB)

Yes (USB)

Available Colours

Graphite

Graphite

Graphite, Ice, Blue, Green, Orange

Cover

Snap on Cover

Snap on Cover

Snap on Cover Leather Slipcase

MSRP (USD)

$149

$179

$249
In addition, the following is a list of features common to all Visors...

¡¤ Infrared port for beaming contact information/applications to other Palm OS compatible devices
¡¤ Reverse back lighting system
¡¤ Built in microphone
¡¤ Springboard module expansion slot

While some of these may seem similar to the current Palm organizers currently available, there are a few substantial differences. The first is the fact that you can purchase the Visor Solo without the synchronization cradle. This is perfect for those who are looking for a standard electronic organizer, but who may not necessarily require the use of PC synchronization.

Secondly, the sync cradles included with the standard Visor connect to a PC (or current generation Macintosh) via USB. By going with a USB based connection, Handspring has been able to offer a substantial speed advantage when synchronizing data, as compared to any Palm currently available. While Palm Computing does offer a USB connectivity kit, it is an extra cost item. In addition, having the USB connectivity enables the Visor to work out of the box with any Macintosh with a USB port (most G3's and later systems).
The largest difference between the Visor and virtually any other PDA on the market, is the revolutionary Springboard slot. This has the capability to give the user an opportunity to expand the device in ways other hand helds cannot.