Enermax 431watt Powersupply Review
---
Normally I'd have to say its pretty damn hard to get excited about a powersupply. After all it's basically a large metal box you plug-in once and forget about. The Enermax powersupplies however, tend to be a little bit different. They have a few extra features then their less powerful counterparts. Features like those make them worth taking a close look at.
Why? Because they are both powerful and really inexpensive. The perfect combination!
What you get:

EG451P-VE powersupply

431W powersupply
instructions manual
pack of screws
power cord
Cost $120CDN
With the cardboard box open, and the unit in your hands the first thing that makes this 431Watt power supply stand out is the length of the leads. The wires are all at least a meter long, which is perfect for those huge cases we all seem to have nowadays.
We've looked at the 350Watt version previously and were very satisfied with it. The 431Watt powerhouse surprised us with a few extra features even!
ATX motherboard power cables are usually one of those things you push off to the side of the case with a few garbage ties. That usually keeps all those wires form interfering with air flow in the case. With this 431Watt beast, the main power connector comes pre-wrapped in nylon cable sheathing. Not only are the cables kept together and out of the way for good internal airflow, but your powersupply has that Darth Vader look to it as well :)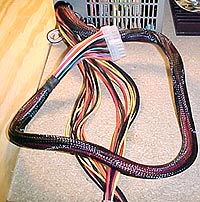 As far as connectors are concerned I think this PSU has just about every variety out there. There are no less than (8) Molex connectors, (1) floppy connector, (1) AT-type auxiliary power connector, and (1) 12v power connector like the one that was plugged into that leaked P4 system's mobo we all saw a while back. Before I forget, there's even a fan monitor connector so the motherboard can send out warnings if the cooling fan start to die.