Abstract: Having a computer screen which is easy to read and not too hard on the eyes is important. A 17" monitor is the bare minimum, 19" is the average, and 21" is a great if you can afford it...


89% Rating:

Home > Reviews > Monitors > ADI Microscan E66
ADI Microscan E66 19" monitor Review
---
A good monitor used to be a luxury but now, with the increased times we spend on the computer each day they have become a necessity. Only a four years ago most people spent a few hours a day staring at a computer screen. Now there are a lot of us who spend all day at work, and a few hours at home in front of the computer.
Having a computer screen which is easy to read, not too hard on the eyes, and isn't cramped is important. A 17" monitor is the bare minimum, 19" is the average, and 21" though massive, is a great if you can afford it. Today we'll be looking at the ADI Microscan E66, a 19", 0.26mm pitch monitor that caught our attention.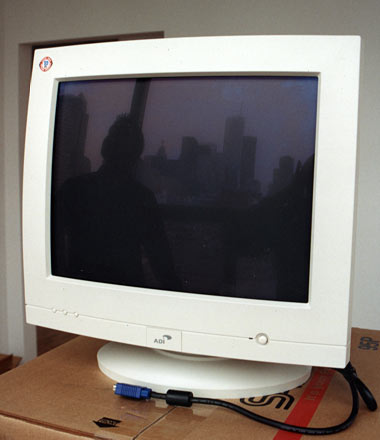 The ADI Microscan E66, a 19" 0.26mm dot pitch monitor. The E66 comes with warranty, instructions, and power cord. Cost is ~$480 CDN
The Full Specs:

Picture Tube

19" (18" diagonal viewable area), flat square tube (FST), dark-tinted CRT with enhanced contrast, 0.26mm dot pitch, invar shadow mask, advanced anti-reflection, anti-glare, anti-static coating with low electro-magnetic field

Max. Resolution
1600x1200@75Hz, 1280x1024@85Mhz (maximum)
Scanning Frequencies
Horizontal: 30 to 96KHz
Vertical: 50 to 160Hz
Display Area
Active area: ~363mm x 271mm
Max. Video Input Bandwidth
202.5 MHz
Input signals

Video: Analog 0.7V
Sync: Digital 3.3V

Input Connector
15-pin D-sub Type
Power Management
EPA/Energy Star, VESA DPMS signaling method
Front panel controls
Power On/Off, Reset, - (Decrease), + (Increase), Function key, Brightness/Contrast
Easyscreen
H-size, H-position, V-size, V-position, Pincushion,Trapezoid, Language, Management
EMI Safety Regulations and Ergonomics
UL, DHHS, CSA, TUV, NORDIC (NEMKO, SEMKO, FIMKO, DEMKO) EMI FCC class B, VCCI, C-Tick, RFS-43, BCIQ, CCIB EMC CE ISO 9241-3, TCO 99
Dimension/power

18.2"(W) x 18.9"(H) x 18.5"(D), 50.6 lbs
90-264 VAC (full range), consumes 115 watts

Extra Features
Optional USB Hub, Optional Multimedia Speakers, PnP compatible

While there are drivers for this monitor on the manufactures site, there are not entirely necessary from our experience in a Win98SE environment. But if you like to have everything running smoothly, they are available. Go to www.adiusa.com where you will find the drivers, and some handy illustrated instructions on how to update/install the current monitor drivers.