Abstract: While the difference in price between a 17" and a 19" monitor is roughly $200, the benefit of a 19" is worth so much more.


86% Rating:

Home > Reviews > Monitors > Acer 99sl
Acer 99sl 19" Monitor Review
---
If you are a graphic artist or just another bloke in the ever evolving world of the web, chances are you spend a lot of time starting at a computer screen. While the difference in price between a 17" and a 19" monitor is roughly $200, the benefit of a 19" is worth so much more.

How can this be you wonder? Well screen real estate is significantly larger on a bigger screen because the resolution can be bumped up to 1280x1024 or even higher with making all the text really tiny. The more you can see on your desktop, the more you can work with - technically speaking. Basically a 19" monitor is an investment in productivity and at the very least, lowers the strain on your eyes if you have a high resolution set.

Now getting on to the review! Previously we reviewed the 19" ADI Microscan E66, which faired very well in our evaluation. This time around we will be reviewing the Acer 99sl, a 19", 0.26mm pitch short-length flat square tube monitor.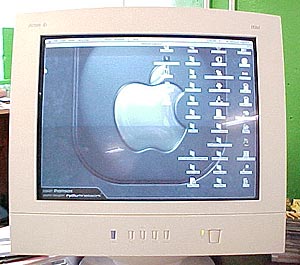 The Acer 99sl monitor, a 19" 0.26mm dot pitch short-length flat square tube monitor. The 99sl comes with warranty, instructions, and power cord. Cost is ~$489 CDN
The Full Specs:

Picture Tube

19" (18" diagonal viewable area), short-length, flat square tube (FST), AR AS coating CRT, 0.26mm dot pitch

Max. Resolution
1600x1200@65Hz, 1280x1024@85Mhz (maximum)
Scanning Frequencies
Horizontal: 30 to 98KHz
Vertical: 50 to 160Hz
Display Area
Active area: 18" (45.7cm) diagonal
Max. Video Input Bandwidth
176 MHz
Input signals

Video: Analog 0.7V
Sync: Digital 3.3V

Input Connector
15-pin D-sub Type
Power Management
EPA/Energy Star, VESA DPMS signaling method
Front panel controls
Power On/Off, i-Key, Enter key, Exit Key, Brightness/Contrast
OSD
Luminance, Geometry, Colour Adjustment, Preset Geometry, Manual Degaussing, Miscellaneous.
EMI Safety Regulations and Ergonomics
UL, DHHS,PTB, CSA, TUV, EMI FCC class B, VCCI, DNSF, MPR II, CE, ISO 9241-3, TCO 99
Dimension/power

466mm(W) x 484mm(H) x 428mm(D), 21kg
100-240 VAC, 50-60Hz (universal), consumes 135 watts

Extra Features
Optional USB Hub, PnP compatible

If you are working an old version of windows, and it doesn't recognize the 99sl, you can get the drivers from www.acerperipherials.com.tw They are not entirely necessary from our experience in a Win98SE environment where most of drivers are included with the OS.