AMD Duron 700 Review
---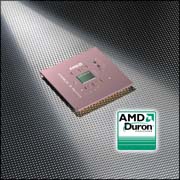 AMD's K6-2 line have always been popular for budget consumers in need of an affordable and fairly quick PC. However the Quake crowd turned away from the K6-2 because of its lackluster 3D performance. The Celeron processor was the budget gaming CPU of choice. However, the times they have changed. The change AMD made was to release the Duron CPU based on their Thunderbird Athlon design. OEM price for the Duron 700Mhz is $112 CDN / $73 USD
The Duron is the clear cut winner right now as the budget CPU of choice. It promises to provide great gaming performance, as well as strong application performance. The price is also very attractive, where the Duron 700 is selling for $112 CDN, the Celeron 633 (fastest currently available in Canada,) is still over $160 CDN!
AMD is clearly very confident with the Duron:
Innovative Architecture
With the introduction of the AMD Duron processor, value-minded buyers now have access to technology that stands out among that of other processors in its class. Some of the AMD Duron processor's innovative features include:
High-Speed System Bus: The AMD Duron processor features a 200MHz front side system bus, offering more available bus bandwidth than that of Intel's Celeron processor. This high-speed system bus delivers exceptional performance on data-rich applications, such as MP3 encoders, video encoders, soft DVD players, and basic video-editing packages.


Sophisticated Cache Architecture: The AMD Duron processor features 192K of total on-chip cache. This large on-chip cache combined with the sophisticated cache architecture, delivers superior performance in comparison to Intel's Celeron processor on memory-intensive applications. Such applications include business and personal productivity suites, as well as basic 3D content creation and photo-editing packages.

Superscalar Floating Point Unit with Enhanced 3DNow!"! Technology: The AMD Duron processor offers three floating point pipelines while Intel's Celeron processor offers only one. This outstanding number-crunching capability, in concert with AMD's enhanced 3DNow!"! multimedia technology, enables the AMD Duron processor to deliver superior performance on applications rich in graphics. Examples of these applications include web-design tools, as well as entertainment and 'edutainment' products.

The AMD Duron processor's innovative architecture enables it to handily outperform Intel's Celeron in clock-for-clock comparisons. In fact, the AMD Duron processor often meets or exceeds performance of Intel's higher-cost Pentium? III processor in similar clock-for-clock benchmarking tests
The most important differences between the Duron and the Celeron happen to be the system bus advantage that the Duron has over the Celeron. Where the Duron has a 100Mhz DDR bus (effectively 200mhz), the Celeron only has a 66Mhz front side bus. The cache situation also favours the Duron, the Duron has 128KB L1 cache, and 64KB L2 cache, the Celeron has only 32KB L1 cache, and 128KB L2 cache. Both processors have on-die cache, operating at CPU frequency (ie 700Mhz cache bus for the 700Mhz Duron.)
With all of these fancy features, how does this "mighty" CPU perform? We'll first start with some SiSoft Sandra scores, as well as some Quake III scores. I believe the Quake III scores will help you to visualize how quick this CPU is or isn't. I'll follow it up with the overclocked scores.
Test Machine:
Duron 700 with Global Win FOP cooler (27.2 CFM) fan.
ABIT KT7 RAID Motherboard
2x128MB Infineon PC-133 RAM
Asus V7700 Geforce 2 Video card @ 235Mhz/ 365Mhz
And some other stuff that doesn't really factor into the benchmarks.