Equipped with a 150MHz processor, the EM 500 in theory should offer rapid access to applications, and be speedy enough to handle multimedia clips effortlessly. Luckily, this holds true. Only in rare cases (such as opening a 1MB image file or complex web pages was I kept waiting for more than a few seconds. While I knew it wasn't a Palm OS based organizer, its speed was still impressive compared to older Windows CE devices (where loading Pocket Word could easily take 5 10 seconds alone).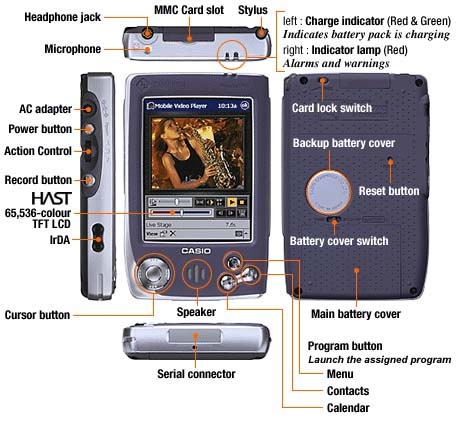 Battery life of the EM 500 was fairly difficult to measure, as it all depends on how the device is being used. When reading an eBook with the display set to medium brightness, the unit's Lithium Ion battery held up for approximately 6 hours.

Using the device to play audio and video clips (the former with the display dimmed to its lowest setting), the unit played on for around 3 4 hours. While these results may seem rather low, bear in mind that the battery can be recharged anytime without the fear of memory effect; the condition found in Nickel Cadmium batteries when charged often without completely depleting them first.

The EM 500 comes with a set of earbuds, although if you are planning to listen to audio, I'd highly recommend using a different set. Audio through the earbuds was dismal at best, with the sound being quite tinny, and with virtually no bass response. Plugging in my Sony street style headphones provided a much richer audio experience. While not quite up to par with my Sony Discman, the audio was still quite pleasing.

Overall, the performance of the EM 500 was above average for this class of device. Slightly slower than a Palm, but fast enough for most tasks, performance should definitely not be an issue for anyone using the device.


I like the Casio's EM 500, but I do have a few concerns:

1) I understand Casio's use of the MMC slot was used mostly from a design standpoint (to minimize the size of the unit, while providing space for a removable battery), but I'm still uncertain of the future of MMC. While Casio has informed me that prices for MMC cards are in line with those of Compact flash, availability may be a problem for some.

Here in Calgary, I've had a hard time finding vendors who carry the cards. True, the cards can be ordered online, but for those who prefer the retail experience, I highly recommend verifying with local vendors whether they can order the cards before purchasing the EM 500.

2) If all you are looking for is a device for keeping track of names and phone numbers, the EM 500 is definitely overkill. Unless you are planning to use the multimedia features this device delivers, your needs would probably be better met with a unit such as Handspring's Visor line of PDA's.

That said, would I myself go out and purchase this device? Probably. I like what Casio has achieved with the EM 500, and feel the price they are charging for it ($499 US) is reasonable for the features you are getting.