Casio Cassiopedia EM 500 PDA Review
---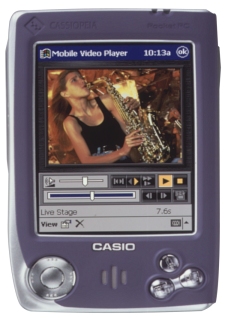 Casio are a name long associated with consumer electronics, has actually been producing CE based hand helds since the very beginning, starting with the A 10. With each new product, the company has managed to improve on the weaknesses of earlier units, while providing additional functionality. With the introduction of their PocketPC units, Casio is ready to continue this tradition. Does this strategy still hold the key to a successful product? Let's take a close look at what the EM 500 has to offer as opposed to other PocketPC's currently on the market.

CPU: MIPS processor running at 150MHz
RAM: 16MB internal
Display: 240 x 320 TFT color LCD (65,536 color capability)
I/O Connections: Multimedia Card (MMC), Microphone, Speaker, Infrared, DC Jack, Stereo Headphone jack, USB Client Port.
Power: 1 x Rechargeable Lithium Ion Battery (removable), 1 x CR2032 backup battery
Colors: Available in 5 colors (Blue, Red, Sky Blue, Green, & yellow)

Upon first glance, the major standouts of the EM 500's specifications are the 65,536 color display, the use of a MultiMedia Card slot for expansion, and a removable battery. Out of the most popular Pocket PC's currently available, the Casio is one of the few that supports 16 bit color on its LCD. Most others are limited to 12 bit (4,096 colors). What this means, is that the display on the EM 500 is very well suited for viewing photos or multimedia clips.

The use of a MultiMedia card (MMC) slot is a very interesting move for Casio. While most PocketPC's utilize the more widely known Compact Flash (CF) cards, MMC's are not as common. Currently limited to memory modules, these cards are quite a bit smaller than CF cards, but a lot less versatile (for example, with a wireless CF card, you can hook up a PocketPC to certain cell phones for wireless web access). Luckily, MMC modules are available in capacities up to 64MB (a 128MB version is planned), so if you don't need the extra features listed above, the slot should still be adequate. Since the EM 500 is only equipped with 16MB of RAM, having the ability to expand is crucial, especially for a device suited for multimedia.

Other than the display and MMC slot, the last major feature is the USB synchronization. Considering that these devices can handle everything from high quality MP3 files to large JPG photos, serial transfers are just not good enough for a PocketPC. When I was synchronizing data, information was sped to the device reasonably quickly (more on this in the Performance section).

As is common when purchasing a name brand consumer PC (HP, Sony, Compaq, etc.), Casio has chosen to bundle the EM 500 with a wide assortment of additional applications. Looking for an address book/calendar replacement? Casio's Mobile Address Book and Mobile Calendar are here to help. If video and/or picture viewing is more your style, the Mobile Picture & Video Player is also included. In total, there is no less than 13 additional applications that either come preinstalled, or can be installed from a CD.

Surprisingly, quite a few of these apps are very useful in day to day use of the device. My only concern is that the Menu application doesn't have a Close Task feature (as I've seen with competing menu apps from HP and Compaq). This can be solved with many third party utilities, but it would have been nice if Casio had included one with the EM 500.

Anxious to see what the EM 500 had to offer, the first step was to look over the quick start guide to see what needed to be done to get the unit up and running. Firstly, the main battery had to be installed and charged. Initial charging takes roughly four hours, and it is advised not to install the backup battery until charging is complete. Fairly straightforward, although be prepared to wait before using the device upon unpacking it.

As for software installation and the connection to a desktop computer, things couldn't be easier. Upon inserting the Microsoft ActiveSync CD ROM (which is bundled with all Pocket PC's), simply follow the on screen instructions. In the case of the EM 500, everything installed with no problems, once I figured out you are only supposed to connect the device to your computer when the software says so. Note that the documentation does indeed state this, so it is very important to read the manuals first.