Abstract: If you're a successful graphic artist or making your living in a dot.com company, chances are you spend a lot of time in front of your computer screen.
86% Rating:
Home > Reviews > Monitors > Samsung 95P
Samtron 95P 19" Monitor Review
---
If you're a successful graphic artist or making your living in a dot.com company, chances are you spend a lot of time in front of your computer screen. While the difference in price between a 17" and a 19" monitor is about $200 these days, the benefit of high-quality a 19" is worth so much more. For instance, screen real estate can be significantly larger on a bigger screen with a higher resolution. Normally 1280x1024 on a 15" or 17 would be impossible to see, but on a nice big 19" there's no problem. As we all know, the more windows you have on your desktop, the more you can work with. So a 19" monitor is like an investment in productivity, lowered eye-strain, and just a great place to stick lots of little yellow post-it notes. :-)

Previously we've reviewed the 19" Acer 99SL and 19" ADI Microscan E66, both of which are targeted at the high end graphics and workstation market. Following suit is the Samtron 95P, a 19", 0.26mm dot pitch monitor utilizing a full square flat face type CRT tube. The 95P is the top of the line in terms of Samtron monitors. Samtron is a division of Samsung by the way.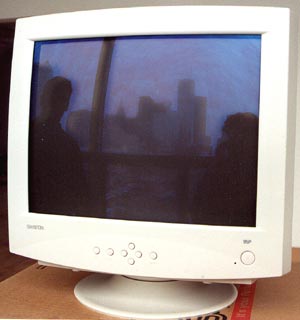 The Samtron 95P monitor, a 19" 0.26mm dot pitch monitor. The 95P comes with warranty, instructions, and power cord. Cost is ~$500 CDNSamtron's 360 degree view.
Onto the full specs for this classy little 19" monitor!
SEARCH PCSTATS

---

Use the power of Google to search all of PCSTATS and the PCSTATS Forums. Tell us what you think of this new feature - FEEDBACK?