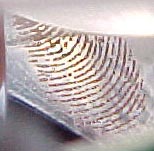 Getting back into the computer is as simple as firmly pressing your thumb up against the sensor. There is a little red light which blinks to prompt you during this process as well.
During our testing we found that if you lightly place your finger on the screen not enough of the fingerprint is picked up by the sensor. This translates into denied access. By firmly planting your finger over the screen, a good solid picture of the fingerprint is captured and authorization is instantaneous.
It's a neat bit of security, especially in an office environment. :-)
Two other rather unique pieces of security related software ship with the Umatch mouse. They are BioVault and PasswordVault. Briefly, BioVault is a very powerful utility that encrypts the hosts hard drive on the FAT level. So no matter if your computer is stolen and the hard drive ripped out, the data is still protected by a layer of encryption. The data protection algorithm, Wicker98 keeps data physically closed on the hard drive. Access is only granted to users who can supply key necessary to decrypt the data, which in this case is your fingerprint. Being that this application can secure on the file, folder or program level it is quite impressive.
The other application, PasswordVault is targeted towards keeping all of one's passwords in one place and then enabling authentication via the mouse. So in other words, password protected applications or websites can be accessible via a scan of the finger instead of typing in a password (or using one of those password remembering applications). The benefit is that while you don't have to remember a bunch of passwords, the applications or websites are still secure because the authentication procedure is not totally removed.