Biolink Umatch Biometric Mouse Review
---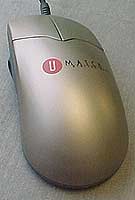 Austin powers had one, and so did the six million dollar man - a biometric mouse... able to leap tall buildings with a single mighty squeak! Well no... not quite, but the biometric mouse is able to keep evil intruders out of your computer with the help a simple fingerprint and some mighty complicated mathematical algorithms.
The Umatch Biolink Mouse comes with the following gear:

Umatch mouse
Instruction booklet
Driver CD: win98, NT4 and Win 98/NT/NTdomain login utilty
Authentication CD: Password Vault, BioVault.
Cost: $129 USD (altima2000.com)
In this, the first of a few reviews on biometric applications we look at the Umatch Biolink Mouse from a company called Biolink. While biometric security solutions have been around for a few years now, many of them have been either too large or expensive to make their way into consumer electronics.
A few companies have been working to make the technology behind fingerprint acquisition more affordable and less bulky. The entire industry still remains on the technological fringe as far as most consumers are concerned, but that may change as more friendly devices find their way's into the home of office.
For those still a little fuzzy on the term, Biometrics itself is the methodology for recognizing or identifying persons based on physiological or behavioral characteristics.
If you consider that essentially all security procedures are based on a combination of three key concepts you can see where biometric security comes into place. Security measures can be based on three things; something you have, something you know or something you are. The main superiority with biometrics lies in the fact that tokens or passwords can copied or stolen, but biometric identifiers are much more difficult to reproduce.
Different means of storing the biometric identifiers exist, and while their are benefits to each method there is no absolute best. Some companies opt to store all identifiers on a central server, where user information is sent during authentication. Other technologies store the identifier on the local hard drive in a highly encrypted format or within the device as an image.
Moving on, lets see how this sleek silver mouse compares that good ol' $10 Logitech...