Beginners Guides: Optical Drives & Recording Formats
---
The first of two parts; explaining the basic facts about how CDs actually work. Everything from the differing optical media recording standards, read/record speeds to selecting the best recordable DVD format is covered. - Version 1.0.0

In a way, the current computer market mirrors the conditions of a few years ago when the CD-R drive, like email, became a driving force behind home computer sales. Except this time the emerging technology is DVD writing. DVD drives are dropping in price, the media is easily available, and the idea of them has been absorbed by the public. Or, at least by those consumers with more than a passing interest in computers, digial music, movies, or whatever.

There is still something besides price that is holding back recordable DVDs however; a standards war is still raging, as it was two years ago, in the writeable DVD market. Any time there is no clear standard, customers are confused, and confused customers don't waste their money on potentially obsolete technology.

In this article, PCstats will attempt to clear away some of the fog from the issue of writeable DVD media standards, as well as explaining how DVD and CD writing technology actually works, and much much more. In the second half of this beginners guide, PCstats will explain how to burn a CD-R, create an ISO image, and several other fundamentals for burning your data to recordable optical media.

First, before the chicken crosses the road entirely, how are CDs, CD-Rs and DVDs made? What gives these wonderful plastic coasters the ability to store such tremendous amounts of data?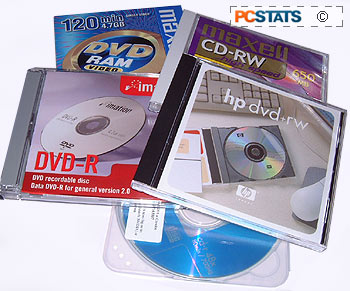 Compact disks are primarily composed of Polycarbonate, a transparent hard plastic, onto which additional incredibly thin layers of metal and plastic are added to reflect laser light and protect the data surface of the CD. This much is true of all Compact disks.
There is a large difference between mass produced 'stamped' CDs and CD-ROMs (Compact Disk - Read Only Memory) such as you would buy in a music or software store, and the CDs intended for use in a CD burner however.
Stamped CDs are produced by injection-molding the polycarbonate plastic into a die which contains tiny pattern of raised bumps along the surface. These bumps, and the flat areas between them ('lands') are the means by which the data is read from the finished CD by a laser.
This surface is then coated by a thin layer of metal (usually silver or aluminum) to provide a reflective surface on the 'top' of the disk (the label side) so that light can be reflected back through the reading side of the CD. A thin layer of plastic tops this metal layer, followed by the label, silk-screened onto the top.
This is your common everyday audio CD, and it also explains why all recordable disk manufacturers stress that ball point pens should never be used to write on a CD. Press to0 hard, and you could literally pen away the data on the disk.