With the nfiniteFX engine, games and other graphics-intensive applications offer stylized visual effects. Two patented architectural advancements: Vertex Shaders and Pixel Shaders.

Home > Reviews > Video Cards > Nvidia
NVIDIA Introduces GeForce3 -- Breaks New Ground in the Quest for Real-Time Cinematic Graphics; Industry's Most Advanced GPU to be Flagship Graphics for Apple's Power Mac G4 Line


TOKYO--Feb. 22, 2001--MACWORLD/Providing the catalyst for a new graphics revolution, NVIDIA(R) Corporation (Nasdaq:NVDA) today introduced the world's most advanced graphics processor, the GeForce3TM GPU for the Macintosh(R) platform at Macworld Expo Tokyo 2001.
Powered by the new NVIDIA nfiniteFX(TM) engine the new GeForce3 GPU enables users to experience a rich, interactive environment. 3D scenes have ambiance with GeForce3 because objects appear photo realistic and custom lighting heightens drama and emotion. Characters and living creatures have organic behavior and unique expressions -- their personality emerges. Programmability and performance are the catalysts for this graphics revolution.
"This announcement comes just one month after the first NVIDIA-based Macintosh launch," stated Jen-Hsun Huang, president and CEO of NVIDIA. "We are excited to have the first public showing of GeForce3 at MacWorld Tokyo in Steve Jobs' keynote address. The combination of our new leading-edge technology with Apple's is going to send shock waves throughout the Macintosh community."
"Apple is proud to be able to introduce the most powerful graphics processing unit on the planet first on a Mac," said Philip Schiller, Apple's vice-president of Worldwide Product Marketing. "The all-new Power Mac G4 with Velocity Engine, when combined with the incredible NVIDIA GeForce3 GPU, delivers industry-leading computing and graphics performance to Mac customers."

In addition, GeForce3 is:


--
The first fully programmable GPU -- the nfiniteFX(TM) Pixel Shader processor and Vertex Shader processor give developers the ability to program a virtually infinite number of special effects and custom looks.
--
The first high-resolution antialiasing (HRAA) GPU, featuring NVIDIA's patented Quincunx AA mode, for high-resolution, high-quality, high-performance multisampling capabilities.
--
A platform for advanced transform and lighting features, enabling more complex, visually exciting objects and scenes.
--
OpenGL(R) 1.2 compatible.
--
Available in 64MB DDR SDRAM configuration that supports both the innovative Apple(R) Display Connector and the industry standard VGA connection.

NVIDIA's nfiniteFX Engine: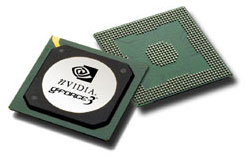 The GeForce3 GPU's nfiniteFX engine gives developers the ability to program a virtually infinite number of special effects and custom looks. Instead of every developer choosing from the same hard-coded palette of capabilities and ending up with a generic look and feel, application developers can specify personalized combinations of graphics operations and create an unlimited list of their own effects. Two architectural advancements enable the nfiniteFX engine's programmability and its multitude of effects: Vertex Shaders and Pixel Shaders.

Injecting Personality and Ambiance via Vertex and Pixel Shading Operations

Vertex Shaders inject personality into characters and environments. Motion invades the entire scene, not just the focal points. The vertex processing capabilities allow characters to move and show facial emotion, materials to stretch, and the scene to come alive. By customizing the skinning and motion, developers can create an appropriate personality, intensifying the impact of the visualization or animation.
Pixel Shaders create ambiance with materials and surfaces that mimic reality. Amazingly realistic material effects replace the artificial, computerized look with high-impact organic surfaces. Characters now have facial hair and blemishes, golf balls have dimples, a red chair gains a subtle leather look, and wood exhibits texture and grain. By altering the lighting and surface effects, artists are able to manipulate colors, textures, or shapes and generate complex, realistic scenes.

High Performance, High Resolution, High Quality

The Lightspeed Memory Architecture(TM) brings power to the GeForce3, delivering earth-shattering performance and fluid motion even for the most complex scenes. NVIDIA's new Quincunx antialiasing (AA) mode, generates high performance samples at nearly four-times the rate of the GeForce2 Ultra, while excellent visual quality.
Rendering at high resolutions with high frame rates becomes the standard with GeForce3, as its advances in pixel rendering and memory efficiency break down the boundaries of frame buffer bandwidth and enable high-resolution antialiasing (HRAA) for the first time ever on the PC.

Sophisticated Processing Technology

The GeForce3 is the world's most advanced GPU with more than 57 million transistors and the ability to perform more than 800 billion operations per second and 76 billion floating point operations per second (FLOPS). The GeForce3 GPU achieves an astounding 3.2 billion antialiased samples per second fill rate -- more than four times the performance of the award-winning GeForce2 Ultra and more than seven times the processing power of any competitive consumer graphics product. As do all of the GeForce family products, GeForce3 drives the most extreme resolutions and color depths of up to 2048x1536x32.
Another key feature of GeForce3 is its high-definition video processor (HDVP) that enables a variety of crystal-clear HDTV solutions when combined with a mainstream CPU and a low-cost DTV receiver. The HDVP allows mainstream high-performance processors to support all 18 Advanced Television Standards Committee (ATSC) formats with a simple, cost-effective DTV receiver card.
Geforce3 graphics on the Power MacTM G4 will be available next month as a configure-to-order (CTO) option at the Apple Store (www.apple.com) and through Apple resellers.

About NVIDIA

NVIDIA Corporation (Nasdaq:NVDA), based in Santa Clara, CA, is the global leader in advanced graphics and multimedia processing technology for the consumer and professional computing markets. It's 2D, 3D, video and multimedia capabilities make NVIDIA one of the premier semiconductor companies in the world. NVIDIA offers a wide range of products and services, delivering superior performance and crisp visual quality for PC-based applications such as manufacturing, science, e-business, entertainment, and education.

Certain statements in this press release, including the statements relating to the Company's performance expectations for NVIDIA's family of products and expectations of continued revenue growth, are forward-looking statements that are subject to risks and uncertainties that could cause results to be materially different than expectations. Such risks and uncertainties include, but are not limited to, manufacturing and other delays relating to new products, difficulties in the fabrication process and dependence of the Company on third-party manufacturers, general industry trends including cyclical trends in the PC and semiconductor industries, the impact of competitive products and pricing alternatives, market acceptance of the Company's new products, and the Company's dependence on third-party developers and publishers. Investors are advised to read the Company's Annual Report on Form 10-K and quarterly reports on Form 10-Q filed with the Securities and Exchange Commission, particularly those sections entitled "Factors Affecting Operating Results," for a fuller discussion of these and other risks and uncertainties.




Contents of Article: Nvidia

---