Enlight 7232 Mid ATX Case
---
After waiting for a mere 4 days my nice new Enlight case came mail order. I'd been waiting in anticipation to finally get a good case. My old one being some cheapo noname thing I picked up for $35 at the local computer store, out of desperation.

Features
Snap-on front bezel for quick and easy installation.
Interchangeable M/B stakes for fast installation of various motherboard sizes
Slide guides for quick FDD/HDD installation.
More drive bay options than others in the market.
Newer EMI construction for high speed Pentium Pro.
Easy access for faster service and maintenance.
Optional cooling fan better ventilation.
Unique cover and chassis construction for easy, accurate assembly.
Meets CE, FCC and DOC requirements.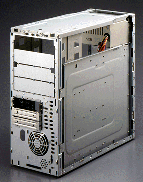 I'd become slightly wiser since that waste of money, which is now lying somewhere in a southern Minnesota garbage dump. Thus I went on my quest for the best mid-tower case I could afford, that would serve me well in many years to come. I looked around haplessly for good reviews on mid-tower cases, to no avail. Apparently being one of the most essential parts of a computer doesn't qualify it for a spot on the well traveled hardware sites.
So I started asking people on-line and off for suggestions. I basically got the same response from all of them "Buy an Inwin". I looked at Inwin's site and read about their different mid-towers and found what I consider to be a fatal flaw. All their cases still used the primitive U-shaped type cover from what I could tell. Next I checked out Enlight having seen them used in reviewed machines before. I was immediately impressed by the fact that the 7232 included a three piece one screw cover. I read around a bit more and was told by quite a few people to make sure you find a vendor that uses Enlight power supplies instead of a cheapo noname. Going on this I decided to order it immediately since I had been running my computer on a desk for 4 weeks and there was a LAN Party coming up in a couple days.
When I received the case I was surprised to find the case comes with an additional fan besides the one in the powersupply not knowing this originally I'd ordered an additional case fan with it. This worked out nice with the Abit bx6 I was installing in the case (which I obviously had evil plans to overclock my hapless celeron with) with one fan behind the front bezel below the drive bays blowing in, and another directly below the power supply and in line with the cpu, on the rear blowing out.

Installing the Abit board was pathetically easy and it mounted perfectly on the removable motherboard tray. I can't say I've ever had a better held in board. The motherboard tray is quite a piece of work also, with convenient clip on metal studs and about 30 locations to install them I doubt anyone would have a loose board. The tray also had the standard standoff and brass stud holes for you old-timers out there. The side panels slide off with the removal of one screw behind the front bezel and fit tightly and squarely back in.
The case uses quick release drive rails that click into the case and hold firmly without the need of any screws. All you have to do to add a drive is screw the rails into it and slide the drive in. With a satisfying "click" the drive is perfectly mounted. I personally loved this feature since it makes it much easier to swap drives in and out for testing. Enlight sent more then enough screws, rails and standoffs along with a complete yet perhaps less then user friendly manual. I was basically left to figure out the motherboard clip in standoff feature on my own. Although if you've worked on computers before you won't have any problems figuring it out.

Syndicated from http://www.deeztech.com