AMK 33336 Custom Mid Tower Case
---
The latest offering from AMK Computers based in Canada is this baby. The AMK 33336 is a very clean, feature filled, slightly taller mid-tower case with a few tricks. Now I have had this case at the house here for some time, and would have had the review done sometime ago.

However, I was without connectivity for about 2 weeks, numerous other personal matters that I won't boor you with, and to be honest a lack of determination. All that out of the way, the awesome folks at AMK graced us with this enclosure, and damn it we are gonna show it off! Here is a couple of quick pics with my web cam, you'll have to excuse the quality. My digital camera is in use somewhere else at the moment.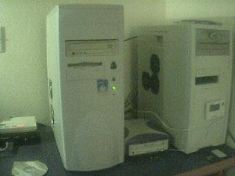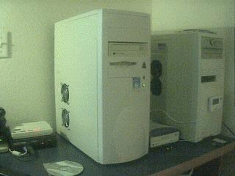 Nice, clean, nothing fancy. There are 3 external 51/4" bays, 2 possible 31/2" external bays, and one internal. Possible he says? That's correct folks. It comes with the standard issue single height cover plates for that unused 31/2" bay usually located under, or over your floppy. Now comes the twist, a single large cover piece to give you a nice clean front if you happen to have one of those faceless floppies! Interesting and welcome addition I think, as most other after market cases I have played with don't give a damn as to what kind of floppy drive you have. Score one for the AMK.

While cool looks are a plus in an enclosure, functionality is what we the hobbyist demand. Not only is ease of access, enough room to work inside the box, and general construction is a concern. What of accessories like cooling, we have to have fans, lots of fans. There is no shortage of those in this unit. With a name like the trusted Sunon fan moving some cube's you know that this bad boy is going to be a tad loud. So it goes without saying that having 3 of the 80mm Sunons, one 60mm at the back, coupled with your CPU cooling rig and the PSU 80mm fan this sucker makes a racket.
I am into that sort of thing, as the semi-white noise of fans churning away keeping the gear cool I can work undaunted knowing that vicious heat is all the while being expelled. For the new crowd and their fanatic behavior in the noise arena, this is probably not going to be at the top of your list of buys. Damn that, I want noise. I want to hear that steady whir of blades slapping at the worst enemy a system has. I freak out if there is silence, because that means either I have slipped into one of those Thorazine moments, or the damn thing crapped out or is turned off. Keep in mind none of the previously mentioned states is a good thing 'round here.