For a clean HDD
For a clean HDD, there are a couple of options. If you are worried about HDD corruption, you will want to fdisk it, remove the current partition and create a new clean primary DOS partition. For the uninitiated fdisk virgins that may be out there, and to avoid yet more e-mails because I left out information that some may need, I will include screenshots for the following fdisk steps to remove the existing partition, and create a new one.




Here is the main menu of our good friend fdisk. How you get here is booting to that floppy, and typing in A:\> FDISK and press the enter key. You will get a screen that asks if you want to enable large disk support, select yes and press enter again, that will bring you to the above screen. To remove the current partition, select choice number 3. That will bring you to the next screen.....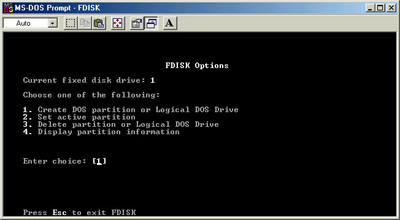 Here we will select choice number 1 to delete the primary DOS partition. That brings you to the next dialogue...
< Previous Page
© 2020 PCSTATS.com

Please respect the time and effort that went into creating each PCSTATS Beginners Guide, do not illegally copy. Thank you.

Next Page >
SEARCH PCSTATS

---

Use the power of Google to search all of PCSTATS and the PCSTATS Forums. Tell us what you think of this new feature - FEEDBACK?