Processor Intel Celeron 550 Mhz
Memory 128 Megs PC-100 SDRAM
Hard Drive IBM DeskStar 10.1 Gig
Video Card Diamond Viper 770 Ultra
SCSI Controller Diamond Fireport 40 UW
Operating System Windows 98 SE

Testing Methodology

We used various methods to test the performance of the two drives. First we benchmarked both drives using SiSoft's Sandra 99 Pro CD-ROM/DVD-ROM benchmark to get an idea of the overall speed and capabilities. Then we copied a 102 MB file using incremental packet writing from our hard drive to the CD and measured the time it took to complete the operation using a formatted packet CD. The particular packet driver we used was Quadrat's PacketCD which in our experience has been the fastest driver for this sort of operation.

Adaptec's DirectCD is not as fast as Quadrat's. Next, we measured each drive's audio extraction speed by utilizing Audio Catalyst. We extracted an entire music CD to the hard drive in .WAV format and measured the average extraction speed. Finally, we did a CD to CD copy of a 635 MB data disc and again measured the time it took to complete the operation.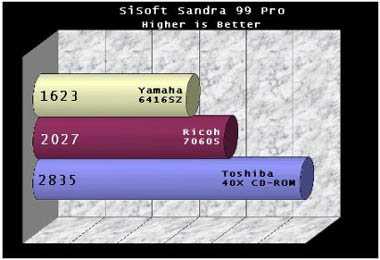 You can clearly see from the above benchmark that the Ricoh takes the lead over the Yamaha drive by a large margin. We threw the 40X Toshiba SCSI benchmark into the mix for comparison purposes just to give you an idea of how each burner performs when compared to a regular CD-ROM.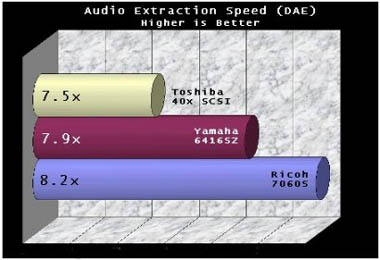 In the audio extraction speed we don't see a lot of difference between the two burners. It's interesting to see that the fastest 40x drive came in dead last in our DAE tests.