Abstract: Well as promised in the preview snippet, Elsa decided to toss into my possession their latest TNT2 offering. Coming to me with 32 MB of SDRAM, the strokin' Revelator 3D Glasses...

Home > Reviews > Video Cards > Elsa Erazor III
font color="#436bb6" size="5" face="Arial">Elsa Erazor III TNT 2 Accelerator
---
Well as promised in the preview snippet, Elsa decided to toss into my possession their latest TNT2 offering. Coming to me with 32 MB of SDRAM, the strokin' Revelator 3D Glasses, and three CD's (two driver disks, and a 3D gaming demo bundle). Also included in the package is a video output splitter that attaches to the video card, your monitor, and the 3D glasses; a nice little manual, a cloth protective case for the glasses, as well as the video card and glasses themselves.

The install went fairly smooth. As with any video card upgrade or swap, before shutting down to pop the case open and rip out the old card, change the current video drivers to "Standard PCI VGA Adapter". That way there will be no conflicts when the new card is recognized after boot. The card I received was standard issue. Puny wanna-be heatsink was staring at me begging to be removed, and I had just the thing to go in its place. PC Power & Cooling had recently sent me a lot of cooling gear, one item of which happened to be what they call the "Drive-Cool".

It is a quite small, slim line heatsink/fan combo that comes with a self adhesive backing for mounting in the area of the motor on your hard drive to keep it a little cooler. Well, I caught one glimpse of the little guy and new exactly what it was good for, and yep it landed smack on top of the nVidia chipset on the Erazor III. Here is a pick of the new "cooler" card.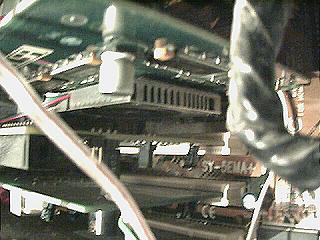 I have to say with the way the Drive-Cool lent itself to a vid card, I would definitely recommend it to all of you looking to cool down that smokin' video chip! I mean you get a chilled card without loosing the next PCI slot. This turned out awesome! Don't let it's small size fool you, this bad-boy moves quite a bit of air and heat at 12v. They sent it with a connector end on it that would have ran the little guy at 5v, but you know me I can't have that. I did all this because it is a well known fact that I WILL OC this card.
Thus endeth the sermon. I ran it through two of the most popular benchmarks with different variations on speed settings for core and memory, as well as the not so new Detonator 2.08 drivers straight from nVidia themselves. They helped me out with the TNT chip on my Viper V550, so I held faith that they would help a little with the TNT2. Here is the scores for you all. I have had so much going on lately that these will have to do, but as soon as I get the GeForce from someone, there will be a huge article on all three of my nVidia cards in a shootout with the BIG ONE!




Contents of Article: Elsa Erazor III

---

Pg 1. — Elsa Erazor III TNT 2 Accelerator
Pg 2. The Numbers