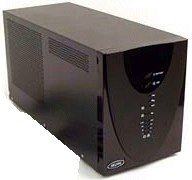 Ok, so we know Belkin has the goods to take care of us home users no problem. What of the networked guys? All that gear gets expensive if it is trashed due to a power loss or spike. Not to mention enterprises would go down real quick if all your servers were off-line until you could reload the OS and all those backups because a bad shutdown nuked your boxes. So, do you buy a single UPS for multiple servers? Yeah sure, if you want the IS budget to go through the roof.

Also there are some freaks out there that have multiple systems in the home or den and want good protection for them as well. Now I am not bagging on anyone, I fall into the above genre as well. Buying a single UPS for each box is out of the question. While the Regulator Pro NetUPS 1400VA is not for us all, we had to show it off for one reason, OK maybe a few reasons. First and foremost, this is not a toy. It is big, heavy, and designed to supply multiple systems with quality juice. There are many options with this beast, one of the most important for you IT geeks is the option for SNMP, or for those MCSE guys that don't have their cliff notes handy Simple Network Management Protocol. This allows for killer administration and logging of events for any number of things on a network. In this case, the UPS.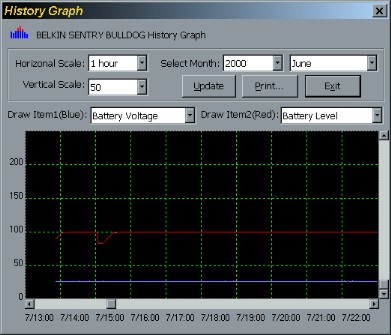 While most of us have no need for such a tool, Network Admin.'s see this type of interface as a good thing. They can manage many things remotely and see how performance is maintaining without having to be right in front of the unit. Also allowing for the sending of net wide warning messages that a power loss or spike event has taken place, and there may be need for a visit to that station. Big plus in an enterprise situation. The other beanies of the NetUPS is again the bundled RS232 cable, as well as the Sentry Bulldog Software.

Here is where it gets interesting. Now think about the UPS and that serial cable for a minute. It can only be connected to one server right? Well then, if you have multiple servers or workstations connected to it, how will the UPS be able to send a shutdown command to the other ones? Simple answer, the software can be pointed to the main server with the serial connection to the UPS.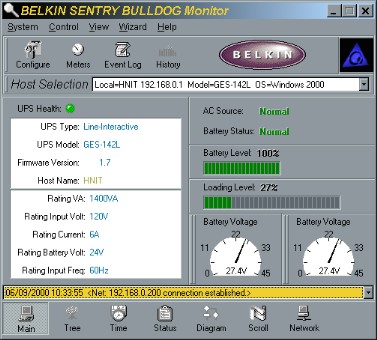 Very cool indeed, that a client server connected to the UPS can react the same as the main server when it comes to a power loss situation. With 1400VA, there is more than enough power for say a 17" monitor, KVM switch, and three or four servers. With that much juice, it can support a 100% load for 7 minutes, or if one of the servers needs to stay up for a bit at a 20% load it can sustain for 65 minutes of run time. Not bad, eh. Other key items for the UPS are upgradeable voltage sockets for more power should it be necessary, as well as the ability to hot swap out the batteries if one needs to be replaced.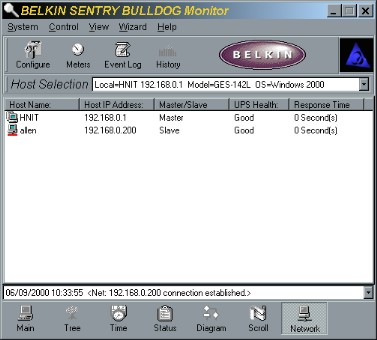 The Bulldog software that came with both of these is a very nice tool, and I wanted to show off a few screen shots of how useful and informative it is. Main reason being is that like I said earlier most companies don't give it away with each UPS. You have to purchase it separately, along with in most cases the serial connection cable. Belkin offers this software and cables freely with each unit. A big pat on the back for that one guys! Hell, when you buy a printer you still have to buy a cable, but not with these guys. Very cool! Back to the software, it allows for on-screen monitoring of voltages, history of events, and the setup for how you want the system to react in case of a power loss. Shown below are some shots of the interesting portions of the GUI, take a quick peak, I made them small so it wouldn't kill the guys on dial up...