Abstract: Power protection is a must when you own a PC. Most go for the $15 surge strip to guard against voltage spikes. Some will go a little further.

Home > Reviews > Power Supply > Belkin 650VA
Belkin 650VA &1400VA UPS
---
Power protection is a must when you own a PC. Most go for the $15 surge strip to guard against voltage spikes. Some will go a little further. However, UPS technology, or uninterruptable power supply for the uninitiated, is the best and preferred method of power safety and computing. Not only do UPS's offer excellent surge protection, but also afford our expensive toys a filtered power source, as well as battery backup time to allow us time to shutdown correctly as to not loose any critical data.

What should we look for in a UPS? Good thing you asked, because our good friends over at Belkin sent us two of their high end UPS units to show off to our good readers. What we received covers the two spectrums in computing, the home user or small office environment, and the demanding networked server application. Those of you reading this now should be able to separate yourselves into either of the two categories. What I will do here is show the benefits of each unit to each type of user and let you all decide which version is more appealing to you.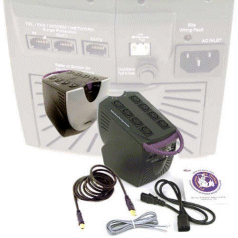 For our first choice, lets get going on the desktop user/SOHO backup unit. The Regulator Pro Gold Series USB 650 VA is the largest of the desktop UPS units offered by Belkin. It sports a 45 minute backup runtime during a power outage (based on an average system with a 17" monitor). If you have a larger monitor, or will have more than one tower plugged into the UPS, that battery powered run time will be less. However it is going to be more than enough time to properly shut your system down in the case of an extended power outage, thus avoiding loss of data due to an improperly shut down system. You may be wondering this, "What if I leave my system on all the time, and the power goes out while I am not at home? How am I supposed to shut down the system from miles away?"

While most UPS manufacturers will make you purchase additional software in conjunction with the UPS, Belkin has upped the ante by bundling the Sentry Bulldog software. That's right folks, free shutdown and UPS management software, as well as the USB or Serial cable to connect to the UPS. What the cables and software allow is for the UPS to tell the system when an outage has occurred and it is now running on batteries. That in turn activates the software which will close all running programs, and properly shutdown the system when the batteries get low.
This would allow you to continue working during a short brown out or power loss, or shutdown for a long one. Pretty killer features that worked out quite well here at the house. In fact, almost as if it were planned, I experienced about a 10 second power loss in the house. Funny how even though a few hours earlier it was I who plugged in the UPS and connected all the gear to it, yet I was still a little shocked for a few seconds to see that the systems never showed a blink of power loss. Yeah yeah, all those herbal brownies will do that to ya. Don't let your friends lie, it does kill brain cells. Yes, the VCR and microwave are still blinking 12:00.

Anyhow, the Regulator Pro really came through. It beeped a warning that power was interrupted, and had it gone on for too long would have shut the systems down like planned. It has a relatively moderate footprint sitting atop the desk next to the servers, however I am sure they intended it to reside under the desk. I am a Tim Taylor type, and love shiny lights and blinking things, so of course it has to be seen along with the rest of the gear. Belkin did an awesome job of designing the aesthetics on this baby, it is a real pleasure to look at and would probably enhance the hardware cluttered abode of many a hobbyist. Check out the design on this bad boy and you will see why...