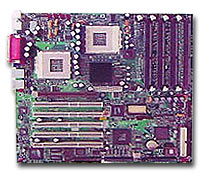 A Preliminary Look at the Thunder K7 - The World's First Dual AMD Motherboard
Tyan has long been known to be working on a dual AMD solution. The Thunder K7 (Model No. S2462) as this mysterious board is known is expected to be released sometime in early quarter two of this year. According to a recent announcement on Akiba, a Japanese computer information magazine, the Thunder K7 is estimated to enter the retail market for around 118,000 Yen, or about $950 USD.
While that may seem like quite a hefty price tag, the revolutionary motherboard is targeted at the high-end workstation and the server market, and not the consumer market.
Regardless, what you get for your money is impressive: The Thunder K7 is build-up from an astounding 8-layer PCB and is based on the AMD 760MP chipset which supports 200MHz / 266MHz FSB.
The board has two socket 462 ZIF slots, one 4X AGP Pro slot, five 64/32 bit - 33MHz 6 volt PCI slots and four 184-pin DDR RAM slots for up to 4GB of PC1600/PC2100 compliant memory.
Tyan's S2462 Dual AMD motherboard had dual channel master mode supporting upto four IDE devices with DMA 100/66/33. An Integrated LAN option gives the board two 3Com 3C920 Lan Controllers for 10/100Mbps support per controller. Integrated SCSI capabilities comes from an Adaptec AIC-7899W controller which yeilds two 160M SCSI channels for support of upto 15 LVD devices per channel. Other ports include; one floppy, one serial, one parallel, four USB and PS/2 for keyboard and mouse.
Graphics come from an integrated ATI RAGE XL graphics accelerator with a 4MB SDRAM frame buffer. Aside from the AMD 760MP chipset, the dual AMD Thunder K7 incorporates an IDG-2 North Bridge and Viper South Bridge along with a Winbond W83827HF Super I/O ASIC.
The BIOS on the Thunder K7 is by Phoenix. The 2MB flash BIOS has one interesting feature which allows for multiple boot configurations. Hardware monitors include three fan headers, 2 intrusion detector headers, and processor temperature and voltage monitoring.
Power comes to the Extended-ATX board via 24-pin and 6-pin power connectors. The S2462 is a large board and measures about 12" x 13".

While these are still just the preliminary specifications, they will no doubt generate a lot of interest in Tyan over the next few months before the dual AMD motherboard is officially released.