MicroStar MS-8809 GeForce
---
Reviewing a regular GeForce video card in the days of the GeForce 2 may seem like a waste of time to many of you. I personally don't think it is, for a couple of reasons.

First and foremost, just because the GeForce 2 is released, it doesn't mean the regular GeForce video cards are not fast anymore. On the contrary, they still very much hold their own in the performance arena. Their price is also becoming much more attractive for the budget minded individuals. A GeForce would be quite an upgrade for people with the Voodoo 3 and TNT 2s out there. Besides, I believe the video card 6-month cycle is getting to be a little bit out of hand. "Normal" people out there simply do not have the money to keep up with the latest and greatest.

Second, MicroStar released their GeForce based video board very recently. When they contacted us about the possibility of doing a review on their video card we just couldn't say no.

With all that said, let's dive into the review.

Specs, Package, First Impressions

Single-Chip GPU (Graphics Processing Unit) Integrated Transform and Lighting Independent Pipelined QuandEngine 256-Bit QuadPipe Rendering Engine AGP 4X with Fast Writes High-Quality HDTV Processor 350 MHz RAMDAC 32MB Frame Buffer 480M Pixels/Sec, 15M Polygons/Sec 32-bit Z-Buffer/Stencil Buffer Complete Support for New Microsoft DirectX 7 and OpenGL Features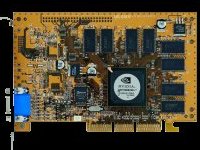 The MS-8809 follows the NVidia reference design very closely. Our board featured a TV out connector in the form of S-Video out along with the corresponding cable. The one beef I had with the cable was that it featured S-Video connectors on both ends. So, in order for you to hook it up to your TV you must either have S-Video inputs on your TV or VCR, or you have to buy an S-Video to RCA adapter. Or you could always use your Voodoo 3 3000 cable :). The big disappointment with the whole board with the inclusion of SDR RAM vs. DDR RAM. Of course, as we all know, using SDR vs. DDR cripples the ability of the GeForce to use its full bandwidth. But, considering that this board is marketed an an inexpensive solution the SDR inclusion makes more sense. Also, giving credit where it's due, the board was outfitted with 5.5 ns RAM, good for a theoretical max of 183 MHz.
Our review unit came with NVidia's reference drivers. It's interesting to note that MSI doesn't make drivers for this video card. I didn't really see that as a problem, as the reference NVidia detonator drivers are very fast anyway. MSI does however include a very useful utility with the product called 3D Turoo II. This handsome little utility allows you to perform a variety of tasks such as changing the color depth and the resolution on the fly, as well as adjust the colors and brightness.
There's even a performance tab which is supposed to allow you to modify your core and memory clock. Unfortunately, we never got it to work. The absolute coolest thing about 3D Turbo II utility, was its ability to allow for eight different virtual desktops. So if your desktop work area is never big enough for your work you can use more than one desktop. You can even assign hot keys to switch between virtual desktops as well perform various other tasks.
The inclusion of the 3D Turbo II utility more than made up for the lack of MSI customized drivers. Last but not least, MSI also included software DVD player to take advantage of the GeForce's DVD decoding capabilities. We didn't really play with the DVD software, since we don't use our computers for watching DVD movies. But, it's always nice to know that the capability is there.