The Samsung 570S TFT has a very understated bezel with a total of six controls. The control consists of the following buttons; Auto, Exit, Power, Brightness (plus and minus) and menu.
The rear of the display only has an analog video input D-sub jack and a power jack.
| | |
| --- | --- |
| | While the plastic hints at additional ports, the display only has two inputs in rear. Power comes from an external AC-adapter which connects to the wall via a standard power cable. Analog video comes into the display through a standard 15-pin D Sub connector. |
| | The control panel as we mentioned is very simple and based on the OSD rather than a multitude of little buttons. The most useful button on the front bezel is the "Auto" config. Held down for a few moments, the button activates a routine which automatically adjusts the monitors brightness, contrast, position and focus to give you a perfect picture. Color adjustments can be made based on the lighting in your office/home to provide the best overall screen colour. |
| | One of the smallest things that was helpful when setting up this display were the little notches in the analog display cable which allowed us to use a screw driver to fully screw the jack in. The jack is pretty much tight against the plastic so it is a bit difficult otherwise to screw them in properly. |
Being that this TFT display is about 6 kilos, it is a bit heavier than previous LCD displays we've looked at. The stand which was shipped with our unit is a special pivoting type. The Syncmaster 570S TFT comes with Pivot Software Ver1.2 which allows the monitor to operate in Landscape or Portrait mode. The choice is up to you, but I have to admit that with the screen rotated to portrait it is much easier to surf these long pages of ours ;-)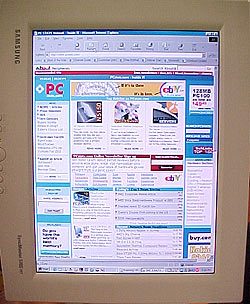 If that's not your style, then the landscape mode (the default way you look at you display) is just as effective. The base allows the panel to tilt forward and backward only a few degrees (say less than 10...), but has an integrated base which lets you rotate the entire unit 360 degrees with ease, and without lifting up the entire flatscreen.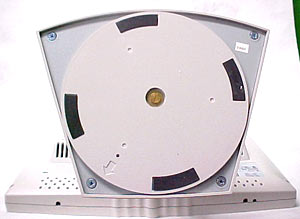 The up and down adjustment of the display is limited by its 2" inches of travel, but it should be sufficient for most desks. This is a spring loaded feature which counter acts the weight of the display itself so adjustments can literally be made with a finger.