Conclusions on the 570S TFT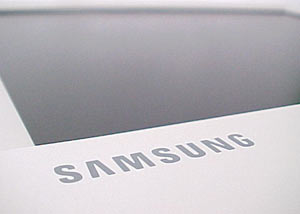 Given the wide variety of LCD flatscreen displays for sale these days, choice of one model over another is probably going to be dictated by price alone. There are very few flatscreen displays which sit below the $1000 mark like the AOC LM-500 we looked at previously. In terms of price it is very difficult to compete with a value product such as that. Samsung's 570S TFT is not really on the same level, and is geared to a slightly higher-end user who needs a wider variety of features like the rotating screen capabilities.
In most cases features such as that are more of an amenity then a necessity, but there is always a measurable benefit to having a highly adaptable product such as the 570S TFT. The price tag of $1200 CDN will put this display out of reach for most of us, but for those of you willing to pay for it, the quality is definitely there. The LCD panel displays a very clear, high contrasting image and can display over 16 million colours.
Samsung (www.samsung.com) have so far been a fairly reliable manufacturer in terms of the monitors we've tested, and the quality control appears to be there. The only fault we can find with this LCD display are minor and revolve around the stand which is a bit difficult to tilt backwards or forwards.
A useful set of bundled software is included with the monitor as we've mentioned, and the picture quality - which is of course the most important aspect - is great. If you can afford a LCD display such as this, I wouldn't hesitate to recommend this display.