LeadTek WinFast GeForce 2 GTS
---
NVidia took the gaming community by storm when they originally released the first GPU, the original GeForce. Here was a chipset that ran at a measly 120 MHz, but at the same time kicked so much ass in the performance field. The GeForce release set the record straight on who had the biggest stick on the playground when it came to gaming performance. 3dfx was left powerless, because they didn't have anything even close to being ready to answer the GeForce. So NVidia was the one and only solution if you wanted the best of the best. Of course, six months went by, and rumors started circulating about who's gonna release the first gigatexel 3D processor.

3dfx and NVidia had an ace up their sleeve, the GeForce 2 GTS and the Voodoo 5 respectively. Unfortunately for 3dfx, NVidia was again the first to come out with the first GigaTexel 3D processor, and this time it was called the GeForce 2 GTS. NVidia's six month product cycles have done a really good job in making their competition, mainly 3dfx, look really bad. Enter, LeadTek's entry in the GeForce 2 market. The LeadTek WinFast GeForce 2 GTS.

We've been promising a review on the LeadTek WinFast GeForce 2 GTS based video card for quite some time now. We finally got off our lazy butts and wrote about it. Here's a quick feature synopsis of the LeadTek's GF2 video card:


Graphics Processor
NVIDIA GeForce 2 GTS
Memory
32MB DDR memory (6ns)
Data Transfer Bandwidth
256-Bit
RAMDAC
Built-in 350MHz
Bus Type
AGP (4x/2x) w/ Fast Writes
VGA Connector
DB-15 analog monitor connector
TV Output
S-Video & RCA Composite
We felt getting into detailed specs would be a bit pointless, since this subject has been covered to death so far. If you want more detailed specs, feel free to visit LeadTek's site.

First Impressions, The Package

LeadTek's version of the GeForce 2 GTS video card, follows NVidia's reference design relatively closely, with the exception of the optional TV out and LCD out connectors. Our particular card came with an optional TV out connector.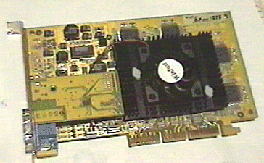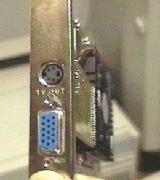 If you take a look at the pics above, you will notice that the LeadTek GF2 comes standard with a respectable heatsink, and you will also notice the special circuitry for the TV out right next to the heatsink as well as the TV out connector in front of the card. It's also possible to order the LeadTek GF2 with an LCD-out connector should you have the need for that.

Our unit package consisted of the video card itself, a driver's CD, as well as software DVD player, a manual and a S-Video cable for the TV out connector on our video card. Like we've pointed out in previous reviews, the TV-out cable bundled with our package, consists of an S-Video connector on both ends. This makes it difficult to use unless you have an S-Video connector on your TV or your VCR. So, in this case, you would be forced to go out and purchase an S-Video to RCA adapter. I really wish companies would just include that adapter in the package. This is the second time we've ran into this issue.