Samsung SD612 12x DVD ROM Review
---
Samsung, a company well known for their consumer electronic products, also manufacturers various computer related items such as monitors, CD Writers, and DVD ROM drives. Their latest model, the SD 612S, is capable of reading DVD's at 12x, and CD ROM's at 40x (both rating are "maximum" speeds, which are usually only attainable at the outermost regions of a disc). Available as an internal IDE solution, the 612S is designed to appeal to those who are planning to migrate to DVD, but are looking for a relatively affordable solution to do so.
Details and more details


The following table illustrates the SD 612's specifications, as provided by Samsung:
| | |
| --- | --- |
| ¡¤ | Data Transfer Rate: DVD 12X (16,200KB/sec), CD 40X (6,000KB/sec) |
| ¡¤ | Burst Transfer Rate: PIO Mode 4 (16.6 MB/sec), DMA 2 (16.6 MB/sec), Ultra DMA supported |
| ¡¤ | Average Access Time of 110ms (DVD) and 90ms (CD) |
| ¡¤ | MPEG Compatible with various Soft MPEG players and MPEG II cards |
| ¡¤ | 512kb buffer |
| ¡¤ | 128kb FLASH memory |
| ¡¤ | Permits for both horizontal and vertical mounting |
| ¡¤ | Supported Media: DVD ROM, DVD R, DVD Video, CD ROM, CD R,CD RW,CD DA, CD ROM/XA, Video CD, CD I/FMV, Multisession Photo CD, Extra CD, MixedCD, CD Text |
| ¡¤ | S/N Ratio > 75dB |
Not too much to discuss in terms of these specifications, as they are generally average for a 12x DVD ROM drive. As we'll see in the benchmarks later in the article, the above statistics are quite accurate, which is a definite plus (after all, few things are worse than overrated performance claims).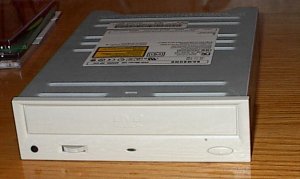 The out of box experience of this particular DVD ROM drive was nearly flawless. The drive comes bundled with an IDE cable, mounting screws, a CD audio connector for "most" sound cards, and a copy of Cyberlink's PowerDVD 2.55 software decoder/playback application. A note to users of Creative's Soundblaster Live (and possibly other new cards as well): make sure you have an existing CD audio cable for your drive, as the provided cable isn't compatible with these cards.

Installation was quite easy, considering there are no drivers needed for any DVD ROM drive for Windows. Upon mounting the drive and starting up my computer, the DVD ROM was identified without any problems. As I do with any hard drive or CD ROM/DVD drive, the first thing I did in Windows was to enable DMA mode in the DVD ROM's properties dialog box in Device Manager. DMA, or Direct Memory Access, is a method used to speed up operations, and is a must if you wish to achieve the maximum performance of your drive.

Over the past few weeks, I've played through dozens of movies. With a Pentium III 700, 256mb RAM, eVGA Geforce2 MX, and Hercules Game Theater XP soundcard, playback was flawless. Not once did I notice any dropped frames or visual glitches. Even a relatively scratched up DVD played astonishingly well (a major contrast to an older 5x OEM DVD I had, which had major troubles with the disc). Overall, I was very impressed with the playback quality of the drive.



In testing actual read performance using Nero CD Speed 2000 (version 0.83 beta), the drive attained a maximum data transfer rate of 41.36x with an average read speed of 28.79x. DVD read performance measured 11.82x (max) with an average of 8.43x (single layered media). While not best of breed performance, it is definitely acceptable, and still offers plenty of speed for loading programs, browsing through a DVD ROM encyclopedia, and other disc intensive operations.

While the Samsung SD 612 lives up to its maximum speed claims, one still needs to realize that 12x DVD reads are not terribly important by today's standards as the majority of software applications are still being distributed on CD ROM. Luckily, this drive fares quite well with such discs. If you are looking for a replacement to an older CD ROM drive, yet have been thinking about making the move to DVD, the SD 612 is a solid choice.Since completing the review of this drive, I have received numerous reader submissions regarding a problem reading dual layered DVD titles. While I have not experienced these problems with this particular unit, the number of people with problems is too much to ignore.