Abstract: It seems as though today everyone is trying to get that extra 2-5% of processing power out of those oh so inexpensive but wonderful Intel Celerons.

Home > Reviews > Cooling / Heatsinks > none
3DCool Double Whammy Celeron Cooler
---
It seems as though today everyone is trying to get that extra 2-5% of processing power out of those oh so inexpensive but wonderful Intel Celerons. I would be classified as one of those people. Even before I built "The Beast" I was already looking forward to overclocking my system to get the most "bang" for my buck. Originally I had a single GlobalWIN single fan / heatsink cooler that performed very nicely, that is compared to no fan / heatsink at all, and then there was 3Dcool who hooked me up fat with the Double Whammy Celeron Cooler. The reason that this article was not done earlier when I received this great product because unlike other sites I have seen, I know that it takes more than one day to determine system stability. My original cooler from GlobalWIN had an unusually puny heatsink compared to the Double Whammy. This surprised me because I thought that size was not an issue. Let me tell you right now bigger is better! The bigger the heatsink equals more heat being released through the aluminum which therefore gives you a cooler and longer lasting Celeron. I had been waiting for a quality cooler for a LONG time, basically ever since my system would just about boot at 83mhz x 6 or 500mhz. You could say it was the ever elusive goal that I could never seem to reach, although of course my best friend gets the better of the batch and attains it quite easily! Don't you just hate when that happens? Now that I have the goods the only conclusion you could possibly come to is that it is time to take that little celeron to the absolute limit, or very close to it without frying my case! Here is the specs of the cooler: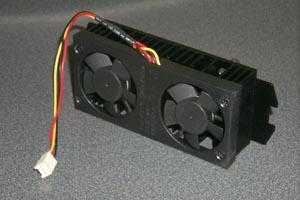 The Specs

Made for Intel Celeron (Slot 1) CPUs
Designed and tested for overclockers
Blazing 6100RPM fan speeds!
Just two thumb-screws to install, takes 15 seconds!
3-pin Power Connector for hardware monitoring
Lifetime warranty
Double Ball-Bearing for superior life!
15CFM air flow (Cubic Feet/Minute)
Ultra Quiet
Extra thick riggid heatsink for quick thermal dissipation
Each fan is 40x40x10mm
SEARCH PCSTATS

---

Use the power of Google to search all of PCSTATS and the PCSTATS Forums. Tell us what you think of this new feature - FEEDBACK?