GlobalWin VOS32 SECC2 Cooler
---
I gotta start off with some pics of this beast, as if you haven't seen it by now. We are a tad late in the game, but getting a hold of one of these monsters is not easy, everyone wants one. Here's a couple reasons why......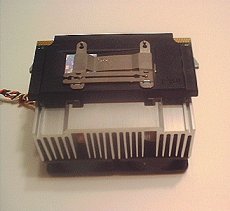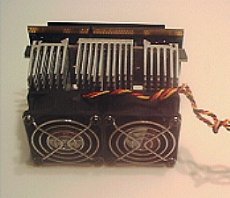 Check out the fly mount on the back of the SECC 2 cartridge. Pretty stout stuff, and easy to slap on. As for removing the OEM, that is easy cheesy. Pop off the 4 tops of the mounting studs on the back side, a few pries next to the studs, and off it comes. You will want to save the back plate for mounting of this cooler, and others I am sure. The stock Intel sink would make a good self defense key chain for the wife, girlfriend, or significant other (to remain as PC as possible, or politically correct for the uninitiated in the crowd....) As seen below, the Intel piece just doesn't stack up, literally! I mean damn, the Global Win towers like a freaking mountain over this thing.....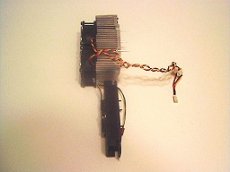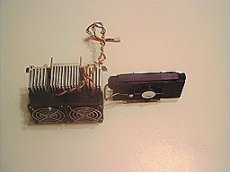 Big Blue is not so big, but in the age old question of man and beast, does size really matter? Ask your girlfriend......she'll say when it comes to large stiff objects that are aiming to please, better be packin'! Okay, enough innuendo, the temps will tell all.

Some particulars on the unit are straight forward stuff. Dual 60 mm YS Tech fans pushing a modest 26 cfm per fan. Not bad for a total of 52 cfm across that huge heatsink. A little noisy, but I like that kind of thing. Comes with all the hardware and mounts necessary for Slot 1 SECC 2 PII/PIII Intel schtuff, and Athlons as well. Can't beat that for the price. Comes with a 3 pin "Y" adapter to get both those fans on the CPU fan header. Keep in mind peep's, this is a big bastard. On some boards you will lose 1, possibly 2 memory slots to the beast. Nice thing is Global Win tried a thing with the fans. They mount higher on the sink, so even if it appears to dominate the memory slots, if your RAM is of the shorter stature, it just might slide by.

Another nice thing for the PII/PIII and Athlon owners is the cache cooling vents. Good airflow directed at the cache can give that little edge for the next step up the OC'ing ladder. Great job GW!! Mounting the pig is fun. The tabs on either side don't like to play well with the Slot 1 retention mechanisms on some boards. Not that this is a major problem, just an opinion. Other than that, not much to tell. Big sink, nice fans = kick ass cooling and flow for show.
SEARCH PCSTATS

---

Use the power of Google to search all of PCSTATS and the PCSTATS Forums. Tell us what you think of this new feature - FEEDBACK?