Toshiba Meets Crusoe: Looking Ahead for Transmeta
Spring is always a good time of year for the plants and flowers, but is it going to be a good season for Transmeta Corp. as well? From what we've been hearing, there are some interesting products in various stages of development that should make spring a very good season for Crusoe.
While Transmeta is unable to provide specifics into the number of product releases incorporating Crusoe, we have been hearing some stirrings about certain Asian companies getting ready to bring to market Crusoe-based notebooks. During Transmeta's Q1 2001 conference call, Mark Allen, CEO of Transmeta made an apparent slip by saying "...you know Toshiba is new, and they've got to ramp...." At the time Transmeta claimed that the statement was not an official announcement of a deal.
Despite that careful maneuver, Transmeta have just confirmed a deal with Toshiba to release the Libretto L1/060TNMM notebook. Weighing in at less than 2.4lbs, and packing an astounding 14 hours of maximum battery life, the Toshiba notebook will be the acid test for Crusoe-based notebooks in US markets, though it will only be available in Japan at first. The Japanese notebook will be released May 18. The Toshiba notebook will use a 600MHz TM5600 Crusoe processor based on the CMS 4.2 software. The standard battery shipping with the notebook offers 4.5 hours of usage.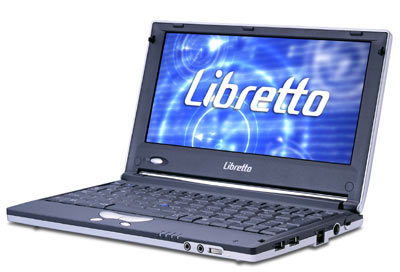 The large Taiwanese OEM/ODM company Compal , is also rumored to have been developing a notebook based on the TM5600 Crusoe processor.
The Toshiba Libretto may not be the only notebook surfacing with a "Go Crusoe" sticker on its' side.
Samsung are also rumored to be developing a TM5600, or TM5800 based ultra-thin notebook. Though, the expected release date is still quite a mystery. A possible adaptation could be along the lines of the Samsung Sens 760, which is currently available with a low voltage Pentium III or Celeron mobile processor. Without a doubt, the eventual adaptation of the Crusoe chip will certainly do wonders towards pushing a notebook of this caliber towards the 19 mm thinness mark.
With Transmeta entering this weeks markets with a $14 stock price any news of new customers should be a welcome one. News of securing a customer as large as Toshiba has been something investors, and Transmeta watchers have been waiting for, for quite some time now.