Abstract: A couple of years back, Intel had completely dropped support for the Socket 7 platform starting from the release of the Pentium II and Celeron processors. At the time, CPU manufacturers such as AMD, Cyrix (before being purchased by VIA), IDT (the Centaur division also owned by VIA), IBM and Rise remained on the Socket 7 bandwagon as they knew it was costly for the consumer moving to a Slot 1 solution.


50% Rating:

Home > Reviews > Motherboards > Redfox
RED FOX Super Socket7 Motherboard Review
---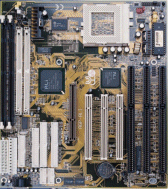 A couple of years back, Intel had completely dropped support for the Socket 7 platform starting from the release of the Pentium II and Celeron processors. At the time, CPU manufacturers such as AMD, Cyrix (before being purchased by VIA), IDT (the Centaur division also owned by VIA), IBM and Rise remained on the Socket 7 bandwagon as they knew it was costly for the consumer moving to a Slot 1 solution.

These manufacturers did realize this and has had tremendous support behind them from Socket 7 fans. More so with AMD, with their entire product line being based upon the Socket 7 interface with CPUs such as the K6-2 and the K6-3 (having been their flagship CPU). Times have changed now.

Today, AMD's top line CPU, the Athlon is based upon their Slot A interface. Of course, not everyone is in a position to afford such a CPU. For AMD fans who cannot who feel this solution is way beyond their pocket books, the Socket 7 platform is still the bed in which their answer lies. With the cost of the K6-2 and K6-3 CPUs now at a very affordable price with performance on par with other Intel CPUs, the Socket 7 is still very much in demand, though perhaps not as much as before.

Reviewed here is the Red Fox AGP ALi Motherboard based upon the ALi Aladdin V chipset. A board which sells well with AMD fans here in India. Though compared to today's standards, it isn't as feature packed as one would want, but it certainly does provide for an affordable solution to regular PC users who really aren't interested in overclocking or staying ahead of the other clan of performance hungry PC users.

Specifications

Below are the various features and specifications of this Red Fox mainboard.

- ZIF 321-pin Socket 7
- Support for Intel Pentium/Pentium MMX, Cyrix MI and certain Cyrix MII CPUs, AMD K5 and K6-x line of CPUs
- ALi Aladdin M1543/M1542 chipset
- Host bus at 60, 66, 75, 83, 100MHz
- 2 SIMM slots
- 2 DIMM slots
- 512KB Pipeline Burst Cache
- 3 ISA / 3 PCI / 1 AGP
- Ultra DMA/33 support
- Baby AT form factor with AT/ATX power connectors, 22cm x 25cm
- ACPI support

The board is bundled with the usual HDD, FDD and COM port cables. One driver/manual CD is included along with a copy of PC-Cillin. A 46-page manual is also included, mainly filled with jumper configurations for various CPUs.