Apacer 128MB PC-100 SDRAM Review
---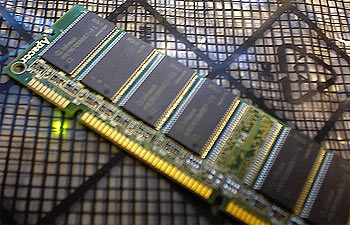 For the performance user always having a top end system is important. I've always been very proud of the parts I used and in away it's no longer just a computer, it's my creation. Now, I work at computer store as a service tech and just about everyone these days seems to be equipping their computers with 128 MB+ RAM, so I figure, "Heck, if Joe Blow has 128 MB, I need more!"
So I went shopping… I could have bought the generic 256 MB DIMM's PC-133 for $110CDN, but again, having pride in my components, I decided against equipping my machine with a weak memory subsystem. Instead I picked up some Apacer 256 MB PC-100 SDRAM.
Now I know what you're saying, "what do you want PC-100 RAM for?!?" Well it's simple, I do my homework before I buy. While looking over the memory available at my local computer store (not the one I work at), I noticed that these 256 MB modules were using the same DRAM as the Mushkin Rev. 3 PC-150 uses! Lucky break? You bet! Of course, the Apacer sticks were quite a bit pricier then regular generic memory. In the end I paid $280CDN for two sticks, or for the mathematically inclined $140 each. The chips were Infineon HYB39S128800CT-7.5, C2.
With 512MB of memory I was satisfied in my systems status once again.
I marvel at how technology has progressed. I have more ram then my old 486DX/33 (oc'ed to 40 MHz!) had hard drive space! Well back to the present. Yes, I'm being vain here, just getting more memory because I wanted more then the average person. Then again, knowing that the DRAM can run at CL2 at 150 MHz, I was really excited on how high I could clock the RAM up to.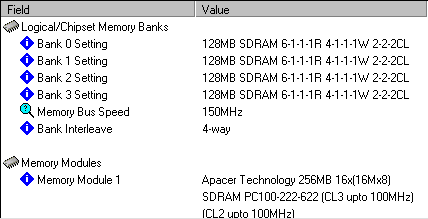 CAS2 150 MHz! I find it humorous how Sandra says this memory is only certified to run at up to 100 MHz. One thing that really surprised me was that even at a CAS3 rating, the RAM would go no higher then 152 MHz! If I tried, it would result in a 'no post'. Here are the system specs of the machine I tested the Apacer 128MB PC100 out on:
Athlon "T-Bird" 1 GHz AVIA 0110 (will do 1.53 GHz!) at 1.2 GHz at various BUS speeds 12 x 100 MHz 9 x 133 MHz 8 x 150 MHz
Asus A7V133 BIOS 1004 BETA 002-D Via 4in1 4.29V
2x 256 MB PC-100 Apacer Ram
Asus V7700 Pro (GeForce 2 Pro 200/400) Detonator 10.80
ATI TV Wonder
Realtek 10/100 NIC
AOpen 56k Modem
SB Live! Platinum 5.1
Windows 98 SE
Benchmarks:
SiSioft Sandra 2001 SE
3DMark 2001
Quake III Arena 1.17
I know what you're saying. "What's the deal with all the cards?" Well, this is supposed to represent a real life system, and most computers have quite a few devices. First off with the Sandra Benchmarks: