FIC AZ11E VIA KT133 Motherboard Review
---
A few short months ago came the introduction of VIA's KT133 chipset. Though the chipset itself has remained pretty much constant (aside from a minor Southbridge revision), host motherboards have been going through good deal of change in a relatively short amount of time. Current generation motherboards now include multiplier adjustments, ATA/100 support and more recently, some form of Voice Diagnosis a feature that is catching on rather quickly.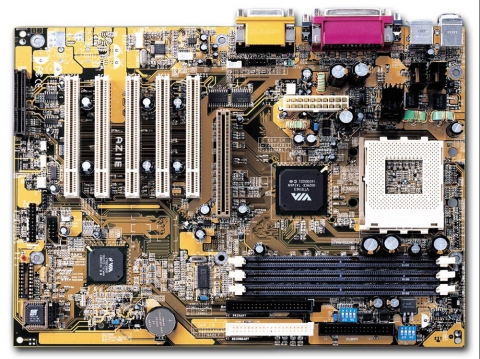 One of the first Socket A boards to make its way to consumers is the AZ11 by FIC. Being part of the first batch of KT133 boards, the AZ11 attracted much attention. Unfortunately, the attention was short lived. Basically, the AZ11 had "issues". That isn't to say other boards released in a similar time frame were made perfect.

Having to have been among the first to get a Socket A solution out the door, FIC also had an advantage to analyze product performance, both in a technical and economical sense, for quite sometime. Back to the drawing board, FIC applied their talent again and delivered their second generation Socket A motherboard, the AZ11E.

With only an 'E' added to the end of its name, one would be excused for thinking the AZ11E to be a rather minor revision of the earlier AZ11. As you will see in this review, this is certainly not the case.

ATA/100 is supported with the AZ11E. The ATA/100 standard is beginning to show itself a bit more clearly in the wake of ATA/100 hard drive product announcements.

Though speeds in excess of 45MB/s is non-existent, ATA/100 in itself is quite a surplus of available data transfer bandwidth. Since we will be seeing more and more 'B' revision Southbridge-based boards on the market, it would just be wiser to go ahead and get ATA/100 support since it is sure that this is where things are headed in the hard disk department.

FIC's AZ11E comes with one of the most complete software bundles out there. Symantec's Norton Anti Virus 2k, Ghost and Virtual Drive are just 3 of the numerous applications included. There are some utilities included which are better left untouched but for the most part, FIC did a fine job in including software that matters that too without considering NOVUS, but more on that later.

A printed manual is included and covers the necessary topics for motherboard configuration. It is complete yet concise and properly categorized into 3 chapters with a useful reference at the end of the manual. On the FIC-centric side of included applications, you can find LogoGenie and Clockometer in there as well. LogoGenie allows the user to design their own startup screen in a bitmap format.

The limitations allow only for a 640x480x16 image but the feature in itself is rather neat. Clockometer allows one to change overclock-related settings directly from the Windows desktop instead of jumpers or even from the system BIOS.

Our test sample included the Audio Alert II daughter board which provides for voice diagnosis on startup. More on that later.