OCZ Titan II MX GeForce 2 MX400 Review
---
Being the extreme performance freak I've always been, I wasn't as excited as I could have been to say... receive a GeForce 4... when I took a look at OCZ's Titan II MX 32MB video card. But then again, The Overclockers Store's claim to fame has always been their ability to supply computer enthusiasts with higher then average quality parts - so I kept an open mind, seeing as the GF4 doesn't yet exist. Heck, maybe the tiny Titan II MX would teach me a lesson! =)
When I say "tiny", I mean just that. As the PCB layout is based exactly on nVidia's reference design for the MX400 32MB version; it is only about half the size of a GeForce 2!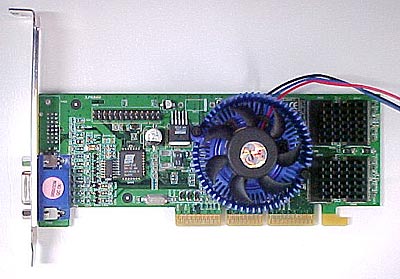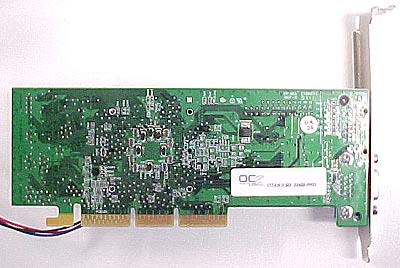 The Titan II MX is OCZ's name for a Geforce 2 MX400 based video card with a Thermaltake Blue Orb, and some custom Ramsinks attached. The card is 32MB and offers Analog output only.
Right away there are a few things that set the Titan II MX apart from the other vanilla-brand MX cards. Those improvements are mainly centered around the excellent cooling gear it carries, namely the Thermaltake Blue Orb and a couple of home-spun Ramsinks.
I wasn't able to confirm the brand or speed of the memory used on the Titan II MX because the Ramsinks are epoxied on really well. However, from other offerings I've seen, this card should come equipped with 5.5 ns RAM, instead of 6.0ns RAM most other cards have. The card is clocked at 183 MHz - the supposed limit of 5.5ns RAM!