With software such as Nero 5, begin the CD creation process by choosing to create a new data CD or a new 'CD-ROM (ISO)'. Unless you specify otherwise, the disk will be multi-session, meaning you can append more data to the disk later on using the 'continue multi-session disk' option.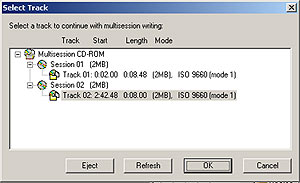 In this way, if you are using the CD to transport data like a floppy disk, you do not have to waste the additional space.
Most CD-Rom drives (certainly anything over 24x) and almost all CD-writers are compatible with multi-session data CDs.
If you want to increase compatibility, or ensure that no more information can be written to the disk, you can either use the 'no multisession' option, or choose to finalize the disk after burning. Both of these options essentially write protect the disk once your data is recorded, and it will no longer appear as writeable media to a CD-RW drive.
To add a new session in Nero, choose the CD-ROM (ISO) or data CD option and opt to continue a multisession CD. The software will analyze the CD and allow you to add data.
Overburning is the process of adding more data to a data or audio CD than its actual listed capacity can hold. This is possible for a couple of reasons.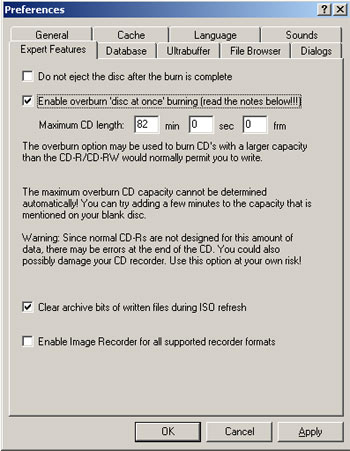 First, each CD-R has a lead-out space in addition to the normal free space, reserved for indicating the end of the CD. This space generally consists of nothing but digital zero values, but there is no reason why it cannot be written to. This space must consist of at least 90 seconds (about 14MB) worth of data, so you can generally add at least that much extra to the disk without serious issues.
Other than this, various manufacturers may leave additional space for data tracks beyond the listed capacity of the disk.
Many CD-burning programs support this feature, but often as an option that must be enabled. In Nero, overburning support can be enabled by going to the 'expert features' tab in the preferences menu. You can then choose the maximum amount of data that Nero will attempt to burn onto your CDs.
Overburning with Nero only works in the 'disk-at-once' mode where the CD is closed after being written to.
Note that nothing is guaranteed when you attempt to overburn a CD.... Depending on your writer, you may not even be able to do it, though most newer writers shouldn't have an issue with this.
For best results, write the CD at a lower speed (4X or 8X) and don't push it too far. You are not going to get 90 minutes of music out of a standard 74 minute CD, so leave it at something reasonable. Use the 90-second lead-out time as a guideline, and never use overburn for essential data.