As rewriteable DVDs use the UDF file system also, the packet writing software used to create CD-RW disks can also be used to burn data DVDs, at least with recent version of the software. The process is essentially identical, with minor differences depending on the type of media being used. DVD-RW disks must be formatted completely before use, and this process takes a large amount of time (up to 2 hours).
DVD+RW disks can format themselves in the background while writing data to already formatted areas, so they can be ready for use in a couple of minutes, even though the full format will take 120 minutes or so.
There are a variety of software packages available to create Video DVDs that will play on a conventional DVD player from home movies or other content. This is slightly beyond the scope of this article, so we are not going to go much further into it.
Essentially these products add the formatting necessary to allow a standard DVD player to access your video clips through a menu system, and enable you to select and preview the video content you wish to add to the CD.
Creating CD Images ('ISOs')
A commonly used term for a CD disk image, an ISO is simply an exact copy of an ISO 9660 formatted data CD saved as a file on a separate storage device, like a hard drive. This file can then be read by CD burning software and used to create an identical copy of the original disk.
This is a useful method of backing up your software or transferring data from a CD to another computer via a network or the Internet. Various software packages have different names and extensions for these files, but they all work in a similar way.
To create an ISO image in Nero: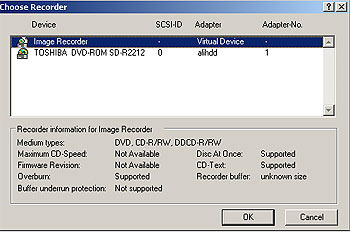 Go to the 'recorder' menu and select 'choose recorder…'
Highlight 'image recorder' and hit 'ok.' This activates a virtual CD writer that will write image files to the hard disk instead of burning data to a CD.
Now when you create a data CD or copy a CD that is in your drive, you will be prompted for the location you wish to store the image and the filename, then Nero will create an .NRG file (Nero's disk image format) in that location.
Note that these files are not compressed. They are the exact size that they would be if they were written to a CD, so ensure that you have enough free space.
Once you have created the image, go back to the 'choose recorder…' window and select your CD writer.
To create a CD from the image, first ensure that you have performed the step above, then select 'burn image' from the 'file' menu. You will be prompted for the location of the image, then you can put it onto the CD.