OCZ MicroBGA PC-166 256MB SDRAM Review
---
Memory is such an important component in every system that getting the best quality memory is not something to take for granted. If you buy by price alone, chances are you may be stuck with some very poorly performing memory. With this in mind we decided to look at some MicroBGA Tonicom memory from the folks at www.theoverclockingstore.com.
Since all computers likes high bus speeds, I've always searched for the fastest ram possible... I thought my search was over a while ago when I found two 256 MB PC-100 Apacer modules that would do CL2 at 150, but how could I turn down a date with a 256MB OCZ Micro BGA PC-166 SDRAM?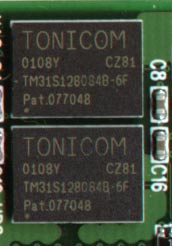 Never having seem BGA ram before, I was quite surprised at the layout, figuring that there would be DRAM on both sides.Rather than a double sided PCB, the MicroBGA modules are located on the front only. Close inspection of the DRAM modules showed that they were produced by Tonicom and had a rating of 6 nanoseconds. This gives the memory a theoretical speed rating of 166 MHz (1000 MHz/6 = 166.67 MHz).
Using the stick of Tonicom memory in my trusty Asus A7V133 I was only met with disappointing overclocking results. The highest I could push the memory to go with my board was 153 MHz! No matter if I set it to CL2 or CL3 it didn't matter - I wasn't too impressed.
However, I did find a savior in the form of the Iwill KK266 (check back for the review shortly). As I had always heard good things about how much head room this motherboard had I dropped in the Tonicom MicroBGA memory and decided to see what the board thought. This round I had a much better overclocking experience!
Since I was only interested in the maximum performance I could squeeze out of the memory I used the extremely aggressive settings of 2-2-2-5. At those settings I could get the system to post the BIOS at 169 MHz! Unfortunately having the computer just post the BIOS doesn't really mean much in terms of usability. So I settled in and tried a few other settings to see what I could get... 166MHz nope, 163MHz no. Finally, I settled for a bus speed of 160 MHz. Not bad, but not 166MHz it's theoretically supposed to be able to run at.
Test System Specs:
Athlon "T-Bird" 1 GHz AVIA at 1.2 GHz using various bus speeds
Iwill KK266 BIOS Mar. 06/2001 Via 4in1 4.32V
MSI StarForce 822 (GeForce 3 200/460)
30 GB IBM DeskStar 75 GXP
OCZ MicroBGA PC-166 256 MB Dimm

Software:
Windows 98 SE
DirectX 8.1 Beta
Benchmarks:
SiSoft Sandra 2001 SE
3DMark 2001
Let the show begin!
SiSoft Sandra 2001


100 MHz Bus



133 MHz Bus



150 MHz Bus



160 MHz bus
Pretty nice increases in the memory benchmarks. In fact, even better then DDR scores once we hit 150 MHz or higher!
How does the Tonicom MicroBGA memory hand under 3DMark?
3DMark2001
| | |
| --- | --- |
| 12 x 100 MHz | 5247 |
| 9 x 133 MHz | 5634 |
| 8 x 150 MHz | 5781 |
| 7.5 x 160 MHz | 5882 |
It's amazing that we haven't changed the CPU speed, but there has been roughly a 12% performance gain just by upping the bus speed to 160 MHz!
We all know how important a high bus speed is. As you can see, even if you're not overclocking the processor, it can still lead to a VERY healthy boost in overall system performance.

With a price at about $95 CAN, you'll be really hard pressed to find an excuse for not getting a stick of OCZ's Tonicom MicroBGA SDRAM. Sure it's a little more then the generic memory out there, but I've always been a big advocate of "you get what you pay for."
m Even though the Tonicom memory didn't hit 166 MHz, I'd still recommend this to anyone who considers themselves hardware enthusiast for its moderate performance increases in an overclocked environment.