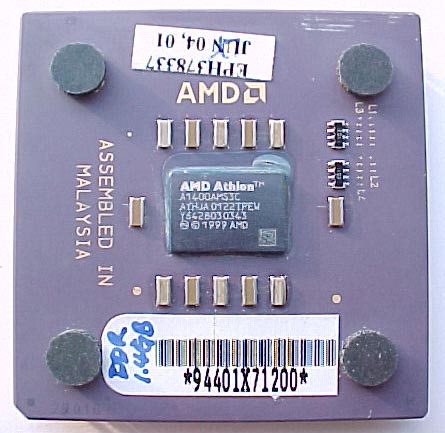 Everything looks good, but then I screwed up...
With my trusty 1 GHz T-bird humming along at 1.5 GHz, I really didn't feel the need to get a new CPU. However, when I went computer parts shopping with a friend for a 1.2 GHz AXIAR, he insisted we go back to one of the stores we already visited to ask one of the guys at C&P Downtown something. So I figured what the heck, why not (it's all your fault Mike! =) )? Then it hit me...
When I laid my eyes on a new 1.4 GHz T-bird AYHJA with the third line starting with a Y I almost fell down in disbelief! These chips are so elusive (been looking, but just looking on and off for 2 weeks) I knew I had to take this opportunity. So I decided to pick it up, and put off my Lian Li PC-70 case purchase a little later. Brimming with new found hope, I've read these babies can hit 1.7+ GHz easy, so I figured I might as well give that a shot. Well on my Asus A7V133, it would go no higher then 1650 MHz. It would POST all the way up to 1.8 GHz! But I failed to hit the magical 1.7 GHz mark. I was pretty sure it was the motherboard holding me back, so I thought "nuts to that", so I decided to pick up a Iwill KK266-R. Being impressed with it during earlier testing I was hoping it would bring me to the promise land.
My modded Alpha PEP66T wouldn't fit on the KK266-R, so I decided to go with an oldie, but goodie, the GlobalWin FOP38. Now remembering how hard I had to push down on the clip, I decided to use a shim (yes, I'm a wuss...) And that proved to be my folly.
Everything looked in place and ready to go, however, I felt something was wrong. Not being able to put my finger on it, I decided to go ahead. It POSTed at 1400 MHz, just as expected, however when I hit the delete key, instead of going into the familiar blue BIOS screen, everything went black.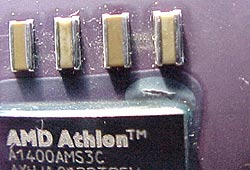 It's really painful for me to look at this picture.

Even though I knew the CPU had been cooked, I tried in vain to revive it to no avail. Tried reapplying thermal paste, reseating the CPU, using it in another motherboard. Nothing. I had just killed a 1.4 GHz T-bird. Reexamining it, I noticed a bubble on the top right hand corner just above the die, and there it must have popped.

Being extra careful turned out to be my biggest mistake, I guess the shim must have shifted onto one of the pads when I was attaching the FOP-38, so therefore the heatsink itself wasn't making contact with the CPU and BANG. That was it.

So have I learned my lesson? You bet, I'm never going to use a shim again. The part that hurts the most is that this chip had so much potential. Unrealized potential... such a waste.