So we've just presented you with a ton of information and a big heap of specs, screen shots and observations. What does all this mean? Well first off, compared to its brother display the CM810, the CM828 is much better. The control over the Moire is superb, and the convergence is some of the best we've seen in a large-screen display.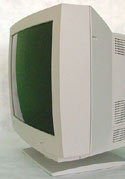 The onscreen display gives almost complete control over just about every imaginable feature and setting that a CRT display has, and with that control you could spend quite a bit of time making minor adjustments to yield the optimal display configuration. Personally, I'm satisfied with the factory default settings as they seem to have gotten just about everything (except brightness) spot on.
What is bad about this display? For once I'm at a loss to find something really lacking with a display. Usually we are blessed with a sloppy display feature that just begs for some good ranting, but alas the CM828 is short on shortcomings. About the only feature that could really stand to be improved (relatively speaking) is the focus in the outer corners. With the display set at a resolution of 1600x1200 pixels and at 32bit setting the text is ever so slightly less sharp.
Other than that one small point it's difficult to find any significant deficiencies with the Hitachi CM828 display - except that perhaps the brightness distribution could be improved upon for perfect uniformity. The CM828 truly represents the top of the line in what Hitachi has to offer for 21" displays, and easily earns our seal of approval.