Iwill KA266 DDR Motherboard Review
---
Since I have been particularly impressed with other Iwill motherboards like the KK266 and BD133, I was hoping that my first experience with ALi's Magik 1 chipset and DDRAM would be pleasant. After all the 'buzz' that the industry has been creating about DDR I was expecting to see almost monumental performance results.
The question was; was I setting myself up for a letdown? Would this DDR-based motherboard, sporting an Ali chipset fulfill my preconceived expectations or would it fall short? Well before I answer that question, a little background info is in order on the Ali chipset the Iwill KA266 is based upon.
IWill KA266 Motherboard
Ships with the following:

IDE CABLE
FDD CABLE
Driver CD-ROM
Instructions
Spare jumpers

MFG Link: iwill
the last time ali (acer labs inc) was a major player in the chipset market was near on 3 years ago when they released what most likely was the fastest super socket 7 chipset, the ali aladdin 5. while the aladdin 5 put amd's K6-2 line on par with Intel's Pentium II in terms of performance at the time, it was severely hampered with major compatibility problems.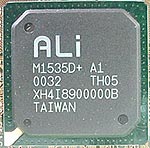 However the Aladdin's biggest problem was simply that Socket 7 was a dying formfactor... Intel had already moved to Slot 1 and AMD's roadmap called for a new and exciting processor that utilized what they called "Slot A." ALi were in trouble so they basically decided to lay low on the chipset scene for the next little while.
Fast forwarding to the present, ALi decided to make their stake on DDR with the Magik 1 chipset. VIA, everyone's darling chipset maker, had to delay and delay the KT266 chipset, and with the AMD 760 being extremely expensive, everything was in place for ALi to enter the market.
Paired with the Iwill KA266, we see a fully integrated motherboard with a just about all the bells and whistles you could expect. While our version can without IDE RAID support the KA266-R will let you set up a RAID-0 configuration if you so desire. The onboard sound by C-Media is a nice touch for users who aren't looking for more than a place to plug in a pair of headphones. Real audiophiles will want to invest in a full fledge audio card naturally.

Lets move forward and examine the full specs on the KA266 now.