TwinMOS PC166 256MB SDRAM Review
---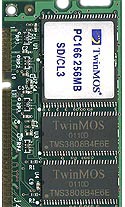 TwinMOS PC166 SDRAM, CAS3.
With the continued push towards faster computer components, there has been the need for improvements on the current standards of memory. Naturally, the most common type of memory in use today is SDRAM. Unfortunately while continually faster processors and video cards and the like have been released, SDRAM has progressed at a relative snails pace in terms of speed and performance.
The latest memory being touted is DDR (Double Data Ram), which evolved from the SDRAM architecture. DDR in its current form, is available as either PC2100 and lesser memory bandwidth enabled PC1600.
The designation of these memory models refer to the actual bandwidth that the memory is able to throughput. This labeling system is quite a departure from the more common use of actual speed ratings we have been accustomed to with PC66, PC100 and PC133.
While most manufacturers of memory modules would like you to believe that the DDR technology is infinitely better (faster and higher bandwidth), there is another school of thinking which still believes that current PC133 SDRAM can, in certain circumstances, perform on par or better than DDR.
Not too long ago I had the opportunity to upgrade my computer (yet again). There was no particular reason, other than to get my hands on a hot new motherboard which has been gaining a lot of praise all over the hardware review sites - including our very own tech dude Colin. The motherboard in question was praised far and wide for its outstanding performance at higher clocked FSB speeds while still just using SDRAM!
I chose to not jump into the DDR technology just yet. since SDRAM still had lots to offer in terms of maturity and stability. Granted, DDR technology is still in its infancy, with plenty of room for higher bandwidth and speed to accommodate newer processors as they are released but that is a little too far away for me to wait. I bit the bullet and decided to keep using my trusty SDRAM which are still very good in terms of performance.
I owned numerous sticks of branded Micron 128MB PC133 CAS2 SDRAM in my system at the time when I chose to purchase the IWILL KK266-R motherboard, so naturally I stayed with an SDRAM motherboard. Over the last few months, the price of memory has drastically dropped to the point where it is cheap to buy in larger memory capacities, such as 256MB or even 512MB.
Quite a few companies decided to continue their support for the SDRAM market, and one of the newer companies making noise in this market is TwinMOS.
TwinMOS are Taiwanese company that are just beginning to become known in North America. The company has decided to concentrate on helping the performance crowd with its latest offering, a stick of SDRAM spec'd at 256MB PC166 @ CAS 3. Most enthusiasts will acknowledge that the easiest way to enhance overall system performance is by overclocking the PC. Of course to do this, it always helps to have very high quality memory components that can operate at high frequencies....