Samsung CD-Yepp Portable MP3-CD Player Review
---
I can say with almost 100% certainty that there will be two killer X-mas gifts this year. The first will be Microsoft's Xbox Gaming System (assuming it's out in time) and the second will be MP3-CD players. If you don't get one of these killer presents in your stalking this year then you've definitely crossed Santa in a bad way.

In terms of MP3-CD players we've already looked at SonicBlue's superbly outfitted RioVolt player. This time we'll be exploring Samsung's aluminum-topped MCD-MP67 CD Yepp. In an odd take on the general rule of thumb, rather than the top cover of the CD-Yepp being made to look like aluminum, it is actually aluminum made to look like plastic made to look like aluminum... ironic in a way don't you think?

Impressions, impressions.

Of course the use of aluminum ensures a lightweight and attractive case for the MP3-CD player - but be warned if you're prone to abusing your gear. Unlike plastic, aluminum will dent if badly dropped or bumped around.

Seeing as my old-school Sony DiscMan is just now starting to die (it's circa 1992) I thought it would be a good time to upgrade to the newest generation of portable CD-players entering the market. After all, MP3-CD players have the best of both worlds - CD's and MP3 compatibility.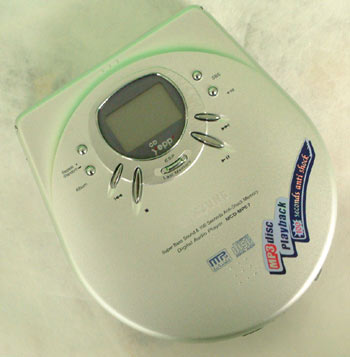 The CD-Yepp, as the MCD-MP67 is affectionately known, is a bit less advanced than the RioVolt as there doesn't appear to be any way of upgrading the firmware. However that's not to say it's limited in its capabilities. The CD-Yepp can tackle standard audio CD's, CD-R's and CD-RW's.
Moving Music onto the CD-Yepp
The only way to get you personal MP3's into the CD-Yepp is to burn a CDR or CDRW with your favorite music files. The CD-Yepp, like all portable MP3-CD players offers no onboard solid state flash memory storage. Basically anyone armed with a CD-RW burner can literally just use the same disc over and over for almost infinite storage, at little cost.
Once you drop a CDR full of MP3's into the CD-Yepp it takes about 30 seconds or so from power up to play. In that time, the player recognizes the CDR media and indexes all the MP3 tracks that are stored on the disk. The time to play may vary slightly depending on how many files need indexing.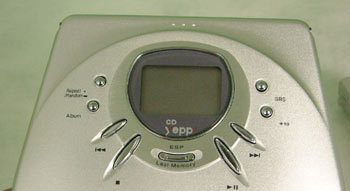 The controls on the player are fairly standard, with a few differences here and there to accommodate the large number of files that can potentially be stored on a CDR diskc - roughly 170 4MB MP3 files can be stored on a single disc.
The keys you aren't likely to recognize are the "Album" key, and "+10" key. The album key tells the player to go through the files on the disc by folder. So if you are listening to a song in the first folder, you can use the album key to jump ahead to another folder, one which may hold music by a different artist for example.
The "+10" key allows you to quickly jump through MP3's at a rate of ten, instead of advancing one by one. It's a handy key for those times when you are going through a hundred or so songs looking for track 90.