Intel Pentium 4 3.2GHz Extreme Edition Processor Review
---
AMD laid a lot of groundwork in preparation for its official Athlon 64 launch. Architectural white papers were circulated years ago; the server and workstation-oriented Opteron was launched months ago to positive reviews; however, with a few days left before the unveiling, Intel announced it was prepared to appease the enthusiast community that it had previously ignored.
The timing couldn't have been better for Intel, either. Its Fall IDF conference fell a week prior to the Athlon 64 launch, so a captive audience would hear the announcement. With Computex in full swing, the Pentium 4 Extreme Edition would undoubtedly be the talk of the town. And don't forget that Intel's appeal to power users is a sharp contrast to its history of locked processors and neutered motherboards. AMD, on the other hand, has always portrayed itself as a purveyor of value and performance.
What, then, is the Pentium 4 Extreme Edition that is purportedly giving AMD's long-anticipated Athlon 64 a run for its money? Well, if you found a lot in common between AMD's Opteron and its Athlon 64 FX, then you're sure to see the similarities between Intel's Xeon and the Pentium 4 Extreme Edition.
There are some obvious adaptations, of course. To begin, the core is fitted to a Socket 478 package, meaning it is a simple upgrade for those who have already invested in an 875P or 865-based motherboard. Also, Xeon's existing 533MHz front side bus isn't potent enough to compete with Intel's desktop lineup. Thus, the processor operates on an 800MHz front side bus, yielding a 3.2GHz operating frequency.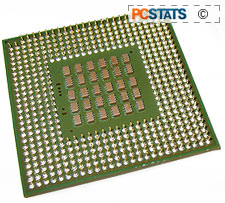 The most significant departure between today's Pentium 4 and tomorrow's Extreme Edition are the processors' cache sizes. High-end P4s currently sport 512KB of level 2 cache and 8KB of L1 data cache organized inclusively. Thus, the information contained in L1 is replicated in L2.
Conversely, the Extreme Edition adds an extra 2MB of exclusive L3 cache running at the same speed as the processor. The L2 isn't copied into the L3, so the Pentium 4 core enjoys a full 2.5MB of on-die storage.
Of course, integrated memory is expensive in terms of die space. Compared to the "Northwood" core, which weighs in at 55 million transistors, Intel's new Pentium 4 Extreme Edition consumes no less than 169 million. Pricing information hasn't yet been disclosed (Intel anticipates that OEM processors will be available in the next 30-60 days), but you can expect that retail chips will reflect the new part's size and complexity.
Perhaps the most tangible advantage that Pentium 4 Extreme Edition holds over the new Athlon 64 family is that it works with existing platforms. Our test platform ABIT IC7-MAX3 didn't even require a BIOS upgrade to function properly...