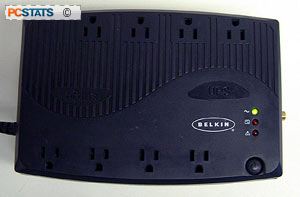 As you can see, the Belkin Home Office 500VA UPS looks more like a big surge suppressor than a UPS. The unit weighs about 5kg which is about average for a UPS of this Volt-Amperage.
There are a total of eight power outlets, and while they are all surge protected, only four of them can be powered by the internal battery should there be a sudden power loss.
The UPS is labelled so that you know which outlets are for surge protection only, and which are for surge protection and battery backup.
Though there are four outlets, the total amount of power that the UPS can supply is fixed at 300W - meaning that if you overload the unit by plugging in too many items, it will not work.
Most UPS' will either give an audible alarm if they are overloaded, or in the event of a power outage simple shut off instantaneously to protect themselves.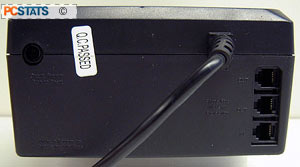 Because this 500VA Belkin UPS has a large non-spillable battery (sealed lead acid) it's physically quite large compared to the everyday surge protector.
The layout of the Home Office UPS is okay; the top is all plugs for easy access, and there is enough space between the CPU sockets for you to use those large AC adapters (like the ones with most speakers).
I would have preferred for Belkin to place all the misc ports on one side of the the UPS, instead of two.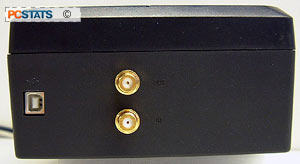 With the phone line ports and USB and Coaxial connectors on opposite sides of the UPS, things get a little messy.
Please note, the Belkin's Home Office Series of UPS's does not have any built in voltage regulation so whatever voltage is going into the UPS is also fed to your electronic devices as well.
If you have a lot of brownouts in your area you're definitely going to want to get a UPS which offers Automatic Voltage Regulation.